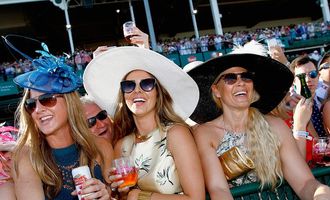 19% of Millennial Billionaires are Likely to be Women; Highest of Any Generation

Elizabeth Kerr
The concept of billionaires changes with each generation but some fundamentals have remained the same. Women have almost always taken a backseat when it comes to generating wealth in billions. However, recent data implies that this is about to change.
Moneytransfers.com has been comparing the billionaire trends across different generations. Findings show that women make up 19.1% of millennial billionaires, which is the highest percentage of women billionaires of any generation. This number is quite an improvement from the immediate preceding generation, Generation X, which has only 11.9% of its billionaires as women. 
Tech and finance to make the most millennial billionaires
The millennial generation is predominantly made up of the first digital natives, and it's no surprise that the majority of the billionaires get their wealth from the technology and finance industries. 
Technology accounts for 31% of the billionaires, while finance and investment billionaires sum up about 12.9% of the wealthiest individuals. Other notable industries that make up a significant percentage of millennial billionaires include fashion & retail, and media & entertainment, which account for 8.6% each. 
The millennial generation also has the second-highest average net worth of %5.12 billion, with 66.4% of the billionaires in this age group being self-made. 
Millennials take pride in being trendsetters
From the data findings by moneytransfers.com, it is clear that the millennial generation is keen on setting the pace for a few trends. 
Further analysis of the data shows that the generation holds the record for the lowest average number of children among the billionaires of any generation. Besides, it also holds the lowest percentage of married billionaires at 68.4%.
While there are many factors at play for these results, it is not a secret that millennials constantly defy societal expectations. The generation is focussed on their freedom, which is probably why less of them opt to get married. 
It's also worth noting that despite the common belief among Baby Boomers and the silent generation, millennials are not lazy. In fact, research shows that most millennials have one or more side hustles to boost their primary sources of income. 
What about Zoomers?
Millenials have been the most controversial generation, until recently. Generation Z, popularly known as Zoomers, is the most recent age group and these individuals are causing a buzz in just about any other sector. 
With many of these Zoomers now joining the workforce, it will be interesting to see how the billionaires trends will play out. We can definitely expect more women billionaires in this generation, if the past trends are anything to go by.
We can also be sure that billionaires in this generation will emerge from different sectors as new ventures such as blockchain technology, cryptocurrencies, and NFTs take this generation by storm and individuals onboard in masses. 
Elizabeth Kerr
Elizabeth is a financial content specialist from Manchester. Her specialities include cryptocurrency, data analysis and financial regulation.