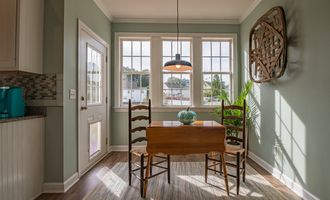 BBC: Rental Property Shortage is Causing Bidding Wars

Daniela Kirova
A shortage of rental property in the UK is resulting in tenant bidding wars and pushing up monthly rents, BBC wrote, citing Propertymark. According to the industry body, the number of properties being rented by agencies has plummeted. On average, they have seen available rentals drop from over 30 to just 15.
A first in two decades
Real estate agent Adam Kingswood told the BBC the market has not behaved this way in two decades, which is how long he's been in the business. He said:
We will list a property and stop taking viewings after just a few hours. Out of those who turn up, the majority will want the property and in most cases the landlord has a choice of what tenant they want to go with.
Tenants vying to be chosen
Children and pets can be seen as a disadvantage, so some parents and pet owners provide photos to prove their desirability. Rents have never been more expensive, up 11% from 2021. Outside London, the average is £1088 per month.
Current tenants are getting anxious over the soaring prices. Landlords are hiking rents, unhappy about bureaucracy and increased costs.
Lou Valdini is letting his properties in London and South Yorkshire go. He explained:
I feel disillusioned by the sector, it was something I enjoyed and wanted to keep doing.
One of his tenants stopped paying rent for almost a year and a half during the pandemic. Fellow residents started complaining about his behavior at the same time. Valdini added:
All that time I was paying the costs and mortgage, as well as getting complaints. The stress was huge. And I'm not a professional big company with people working for me to sort these things. It all fell on my shoulders.
Renters are afraid to ask for repairs
A landlord with tens of properties in Nottingham, Mick Roberts, said he wanted to keep rent down for his tenants, all of whom are on housing benefits. He said some of them won't ask for repairs because they're afraid their rent will go up. He admits he asks prospective tenants for the market rate. He said:
There's been something like 179 new rules in the last five years. You used to be able, rightly or wrongly, to give the tenants the keys and service the boiler once a year. Now we are part landlord, part policemen, counsellor, we do debt work like a bailiff.