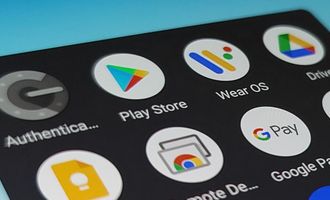 Study: Highest-ranking apps on Google store have either black, red or white Icons

Elizabeth Kerr
"White was the most commonly used colour in prominent shopping app icons as of February 2022," reports MoneyTransfers CEO Jonathan Merry. Icons of the most popular shopping applications employed white for about 43% of their design.
Each of the researched categories has its dominant tone. According to MoneyTransfers, black was the most common colour for gaming apps, while red was popular for food and drink applications.
Find more research news here.
The most popular apps of 2022, based on downloads, spending, and active users
According to Data.ai, consumers spent $33 billion on mobile apps in the first quarter of 2022, the biggest ever amount. In just two years, that's risen by 40%, although the pandemic-related surge in mobile growth is diminishing. 
It's essential to keep in mind that this includes money spent on online products and subscriptions to digital services. However, it does not include the $33 billion in mobile spending on retail items and deliverable outcomes.
In the first quarter of this year, the most popular mobile apps were from renowned publishers with a few surprises thrown in. In the quarter's titanic war, Instagram emerged victorious over TikTok. 
People and organizations concerned about censorship on other platforms continue to use Telegram. It played a role as the primary platform for their private group and individual conversations.
Zoom, meanwhile, was clinging to part of its work-from-home epidemic vibe.
Global app downloads in Q1 2022
The top app downloads were Instagram, TikTok, Facebook, WhatsApp, Snapchat, Telegram, Shopee, Facebook Messenger, Spotify, and Zoom Cloud Meetings.
TikTok triumphs in customer spending. People can now purchase in-app badges and presents to show their appreciation for their favourite TikTok creators. It has been a tremendous success. 
Dating apps like Tinder and streaming video apps, including Japan's Piccoma, and webtoons app, make up six of the top 10 apps by cost.
Top global apps by consumer spending in Q1 2022
TikTok, YouTube, Tinder, Disney+, HBO Max, Tencent Video, Google One, Piccomai, QiYi, and QQ Music were the top apps by consumer spending.
Facebook still has the most monthly active users globally, with TikTok, Amazon, Twitter, and others in second and third place.
Top global apps based on monthly active users, Q1 2022
Facebook, WhatsApp, Instagram, Facebook Messenger, TikTok, Amazon, Telegram, Twitter, Spotify, and Netflix were the top apps on monthly active users.
Market data singles out Snapchat and Shoppee as two of the most influential apps. Snapchat's teen-targeted social media app has appeared to stagnate in recent years. 
However, brand partnerships with Coke, Amazon, Under Armour, and investments in augmented reality for innovative face swaps have given Snapchat a boost. Those helped move it up the global download charts from seventh to fifth.
While Shoppee's income and user numbers have been growing, the Singapore-based online retailer's market share has steadily decreased. Something else worth noting is how many humans seem to value good health.
Data.ai reports that medical apps are expanding at 23 percent every quarter, while health and fitness apps are growing at roughly 20 percent per quarter. It's no surprise that Calm is one of the most popular apps for meditation and sleep.
More technology news
Elizabeth Kerr
Elizabeth is a financial content specialist from Manchester. Her specialities include cryptocurrency, data analysis and financial regulation.