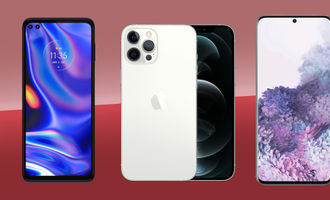 The number of 5G ready phones grew by 60% in 2021

Elizabeth Kerr
The market is finally starting to see a significant increase in the number of 5G ready phones. According to a MoneyTransfers.com analysis, the number of such phones grew from 251 to 401 in 2021. That represented a 60% jump in their number. 
This development is good news for consumers and carriers alike. It suggests that we are closer than ever to mainstreaming 5G telephony. It also indicates a growing demand for next-gen mobile services offering faster and more reliable connectivity.
Jonathan Merry, MoneyTransfers' CEO, has shared his thoughts on the findings. He said, "We expect the number of 5G ready phones to grow over the coming months. Companies are either releasing or announcing the production of new models. Besides, the technology behind these devices has improved since their initial release. So it's no surprise that sales are rising rapidly."
Why 5G?
5G tech hit the market in 2019, with Samsung and Huawei setting the pace in its adoption. Since then, Telcos have upgraded their networks and provided devices to meet growing user demand. Market analysis indicates that the technology will attract over 3 billion subscribers by 2025. So what's the excitement about it?
The ballooning internet traffic is fuelling the demand for enhanced data transmission capacities. 5G tech betters 4G/LTE data transmission by up to 20 times. It'll also increase the connection density by 10X that of the current tech. That'll support nearly a million connections per square kilometer.
Moreover, the tech eases HD media streaming in overpopulated or poorly covered areas. Again, it'll facilitate the integrated management of a myriad of devices. Further, it'll lower battery usage, cost, and battery consumption.
Other areas that'll benefit from the technology include machine learning and the internet of things. These two have wide applications across our lives. In America alone, 5G tech is expected to impact the economy to the tune of nearly $484B.
Who's leading in 5G adoption?
According to a Viavi Solutions study, about 2,000 cities in 72 nations have 5G connectivity. China leads ten other nations with the most 5G ready sites. So you can enjoy the technology in up to 356 cities in the country. The U.S comes in second with 296 cities, while the Philippines rounds off the top three. Here you can enjoy the technology in 98 of the cities.
Elizabeth Kerr
Elizabeth is a financial content specialist from Manchester. Her specialities include cryptocurrency, data analysis and financial regulation.