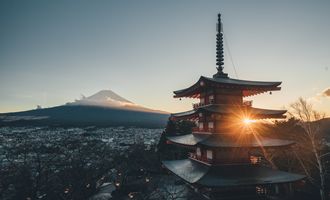 USD/JPY Slides Lower As US GDP Contracts
The USD/JPY pair fell to a four-week low on Thursday as the Japanese Yen notched up its best performance vs the US Dollar in almost a year.
USD/JPY fell -1.70% from 136.57 to 134.20 after second-quarter US GDP data showed the US economy is slowing. Furthermore, this is the second consecutive quarter of declining GDP, which is considered a technical recession.
The US Dollar Index lost a full point, slipping from an intra-day high of 107.00 down to 106.00. The Japanese Yen was the clear outperformer on the day, gaining more ground against the greenback than other majors.
Breaking Down the GDP Data
The GDP data came it at -0.930%, way below the forecast 0.5%.
The report from the Bureau of Economic Analysis (BEA) showed that almost all inputs slowed in Q2 — an increase in consumer spending and higher exports were the only bright spots.
Investment in inventories declined
Housing investment slowed.
Federal Government spending was lower. As was local government spending.
Company investment slowed
Consumer spending increased in Q2
Both imports and exports were higher in the period
What the Experts Say
Despite the disappointing data dump, many analysts were quick to write off recession fears.
Jay Hatfield, chief Investment officer at Infrastructure Capital Advisors, said:
"We are not in a recession or technical recession as first quarter GDP estimates are empirically negatively biased."
Furthermore, Capital Economics senior economist Andrew Hunter, said:
"The 0.9% annualized fall in GDP in the second quarter is disappointing but doesn't mean the economy is in recession."
USD/JPY Outlook
Although the Yen posted significant gains, the move was driven by US Dollar weakness rather than Yen strength. And considering the Bank of Japan (BOJ) seems intent on keeping interest rates artificially low, any extension lower may be short-lived.
That being said, the daily price chart shows the pair is at a critical support level.
After breaking below trend line support during yesterday's sell-off, USD/JPY is now testing the support of the 50-Day Moving Average (DMA) at 134.26 (green line). The 50 DMA has been a good level of support this year, and thus an important level for traders.
If the price closes below the 50 DMA, it could encourage technical selling, potentially targeting the 100-DMA at 129.96. By contrast, if USD/JPY holds above the indicator, bulls will push to reclaim the uptrend at 135.70.
USD/JPY Price Chart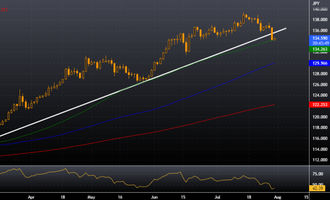 Elliot Laybourne
Elliott is a former investment banker with a 20 year career in the city of London. During this time he held senior roles at ABN Amro, Societe Generale, Marex Financial and Natixis bank, specialising in commodity derivatives and options market-making. During this time, Elliott's client list included Goldman Sachs, JP Morgan, Credit Suisse, Schroders Asset Management, and the Pennsylvania State Public School Employees Retirement System, amongst others. Today, he splits his time between Thailand and Dubai, from where he provides trading consultancy and business development services for family office and brokerage clientele.