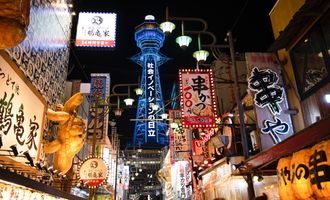 USD/JPY: Japanese Yen, New Low When?
The USD/JPY rally show's no signs of slowing. If anything, the US dollar looks ready to surge to a new multi-decade high against the yen.
The Japanese yen has started the week lower against the greenback. As I write, the dollar is higher by 0.95 percent to 138.81, approaching July's 24-year high.
The US dollar has appreciated 20 percent against the yen this year and over 35 percent from the March 2020 low. The reason is that the US Federal Reserve is aggressively fighting inflation, and the Bank of Japan isn't.
The differing policies have widened the gap between the two nations' interest rates. Furthermore, speaking at the Jackson Hole symposium on Friday, Fed Chair Jerome Powell told markets to expect more tightening:
"Restoring price stability will take some time and requires using our tools forcefully to bring demand and supply into better balance."
Powell's comments spooked risk assets everywhere. US stocks suffered their worst day in months. With the tech-heavy Nasdaq losing 4.00 percent in the session. The heavy-selling wiped more than $1 trillion from US equites, sparking massive safe-haven flows into the US dollar. Subsequently, US bond yields are flying, which is likely to attract even more capital from Japan, where Bonds yield very little.
Looking to the week ahead, several potential flashpoints are possible for the yen. On Wednesday, we have Retail Sales, and Industrial production data. Followed by an address from Bank of Japan (BOJ) Board member Nakagawa.
Dollar to Yen Forecast
Turning to the daily price chart, we see USD/JPY is on the verge of printing a new high 24-year high. In this event, we should expect to see a rush of USD buying. Where a likely target is the 1998 high around 147.60.
Whilst the target is ambitious, considering how far the yen has fallen this year, it's more than possible.
Below the market, support is seen at the 50-Day Moving Average (DMA) at 135.81 (green). The bullish view remains, as long as the price is above the 50-DMA. For that reason, a close below 135.81 alters the immediate outlook from bullish to neutral.
USD/JPY Price Chart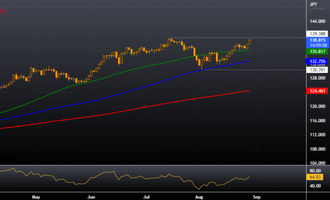 Elliot Laybourne
Elliott is a former investment banker with a 20 year career in the city of London. During this time he held senior roles at ABN Amro, Societe Generale, Marex Financial and Natixis bank, specialising in commodity derivatives and options market-making. During this time, Elliott's client list included Goldman Sachs, JP Morgan, Credit Suisse, Schroders Asset Management, and the Pennsylvania State Public School Employees Retirement System, amongst others. Today, he splits his time between Thailand and Dubai, from where he provides trading consultancy and business development services for family office and brokerage clientele.