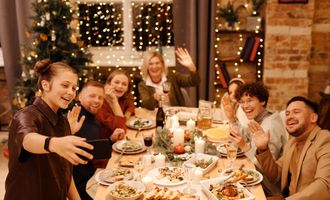 Flying home for Christmas: How 2021 will compare with 2020 for Brits abroad

MoneyTransfers News Desk
The pandemic has brought about hard times for millions of people around the world, not least those who've been kept from their friends and family for months – in some cases almost two years – due to international travel restrictions. 
It just so happens that Australia has enacted some of the world's strictest border policies during the pandemic, meaning it's been exceedingly difficult – and in many cases impossible – for Brits to fly home, or for family members back home to visit them Down Under. 
British expats stuck abroad
This situation has been much the same in nearby New Zealand, home to around 270,000 British nationals; over in the United States, with around 700,000 of them; and in Canada, with 530,000.
Even in closer-to-home locations like Spain – home to a little over 300,000 Brits – travelling has been far from easy.
Whether a family celebrates Christmas or not, the last month of the year is generally a time to get together with loved ones, especially those who only make a trip home once a year – meaning December 2020 was a particularly hard time for many people. 
MoneyTransfers.com, who help expats compare exchange rates and money transfer services, has looked back at how Christmas 2020 played out and what will be different in Christmas 2021. 
For one, there should be much better flight availability at cheaper prices, which was a major obstacle for the few expats who were permitted and able to fly home last year. 
Flight predictions for Christmas 2021
We looked at ONS data on the average daily number of flights for the last three years, including the fall in flights from 2019 to 2020 and increases from 2020 to 2021, and incorporated estimations based on published winter flight schedules from airlines like British Airways and Ryanair. 
We also recapped border restrictions for some of the countries with the biggest British expat populations and looked at what the situation is likely to be this year.
Glad tidings
Just 413,845 Canadians residents made trips abroad in December 2020, down 91.3% from December 2019, according to official stats. 
Sophie, a 28-year-old Briton who has lived and worked in Vancouver for three years, hasn't seen her family since September 2019 and remembers the emotions the last festive season brought up.
"My family put me on video call at the end of the table while they were eating so I could feel part of the day," she told MoneyTransfers.com. "Whilst it was lovely to see them, it's not the same as being there in person. This year was then very hard as strict travel restrictions remained in place even though Canada had such high vaccination rates."
That should change this Christmas, however.
Canadians are still being advised not to travel abroad unless necessary, but people are able to exercise their own judgement on whether the risks are worth it. 
The UK is now allowing all vaccinated travellers arriving from countries not on its red list (which Canada is not) to visit without quarantining, and vaccinated Canadian residents and tourists can enter the country with just a COVID-19 test. There should also be plenty of direct and reasonably-priced flight options from different airlines, giving thousands of Brits a chance to fly home. 
Sophie will be one of them: "I can't wait to eat my dad's cooking and give my mum a huge hug," she said.
MoneyTransfers News Desk
Money transfers, foreign exchange, remittance and currency research and insights from our newsdesk team.