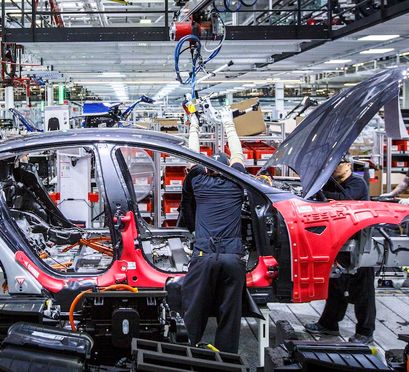 Tesla's Q1 2022 deliveries are up 68% of Q1 2021 figures

Elizabeth Kerr
Tesla has announced record-breaking Q1 2022 delivery figures. The electric vehicle (EV) maker delivered some 310, 048 units. According to a MoneyTransfers.com analysis, these were 68% more than it achieved in Q1 2021 deliveries. 
The automaker's Q1 2022 deliveries were buoyed by the production of 305, 407 EVs. Models 3 and Y accounted for 295,324 deliveries; models S and X contributed the rest. In contrast, the firm delivered 184,800 cars from a production of 180, 338 units in Q1 2021.
Tesla's impressive performance
"Tesla's Q1 2022 performance is more impressive considering the testing environment it has been operating under," says moneytransfers.com's CEO Jonathan Merry. "It has had challenges with supplies and the closures of its Shanghai plant. One would expect these to impact its numbers; if it has, it's minimal, which speaks volumes of Tesla's resilience." 
EV market's woes
The entire EV industry is grappling with supply chain bottlenecks and escalating production costs. There's a biting shortage of vital components such as semiconductors. Additionally, the prices of raw materials, for instance, aluminum and nickel, have ballooned since Russia's incursion into Ukraine.
That has led the firm to hike the prices of its car. Last month the company increased the retail prices of its EV units in America and China. While announcing the move, its CEO Elon Musk pointed to heightened inflationary pressure on raw materials.
Solidifying Tesla's market dominance
Tesla seems to be navigating the pandemic and supply chain hitches better than other automakers. And their Shanghai plant has been instrumental in this. But it has had to temporarily halt its production following a new wave of COVID-19 infections in China. The city has imposed lockdowns affecting work in keeping with the country's zero Covid policy.
The company has been expanding its market reach lately. It unveiled a new factory in Brandenburg in March and will be opening a new plant in Austin, Texas, on the 7th of April. Last month it began supplying vehicles it has built at its Gruenheide unit in Germany.
Tesla also moved into its new headquarters in Austin in December 2021. It is nevertheless still running its first factory in Fremont, California. Its CEO Elon Musk has reported that the Shanghai unit's output had eclipsed California's. The two are pivotal in the firm's expansion plan. They'll work with the new ones to solidify Tesla's market dominance.
Elizabeth Kerr
Elizabeth is a financial content specialist from Manchester. Her specialities include cryptocurrency, data analysis and financial regulation.