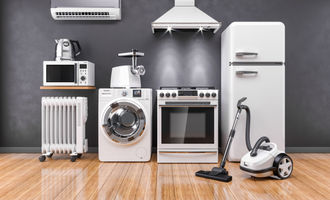 Top 10 Most Expensive Appliances to Run Each Month

Yasmin Purnell
With the cost of living crisis causing families to cut down on their energy bills across the UK to make ends meet, MoneyTransfers.com looked at the 10 most expensive appliances to run at home.
Air conditioners burn through your energy bills
We found that air conditioners – using current energy prices of £0.28 per Kilowatt Hour (kWh)* – are by far the most expensive utility to run each month, with electric heaters, tumble dryers, and washing machines following behind.
At the bottom of the list, a single incandescent light bulb (assuming it's used for 4 hours a day), costs just £2.02 each month, or £24.24 a year.
Kettles come in sixth
Brits may be surprised to see that the beloved kettle actually doesn't use as much electricity as they perhaps thought. Research from Utilita shows that a quarter of UK adults thought that their kettle was using the most energy – when in fact, it's only the sixth most expensive appliance per month assuming the kettle is being boiled for 15 minutes per day.
Interestingly, the cost of running an air conditioning unit (for an estimated 8 hours per day) costs more per month than the other nine most expensive appliances combined. So for anyone enjoying the cool breeze of an air conditioner during a heatwave, switching it off would be the number one way to cut down on energy consumption.
Others may be interested to know that the energy consumption of other appliances on this list could dramatically be cut down if you switch them off at the plug (although, admittedly, this is not possible for fridge, freezers and washing machines). 
Recent research from Loop showed that the average household could save £140 of their energy bills just by turning off appliances at the switch.
"The cost of living crisis and increased price cap on energy bills is an issue affecting families across the country. Our research shows that combined, many of these appliances simply cost too much to run simultaneously under current energy tariffs.
Inflation is at an all-time high, and getting energy bills as low as possible is a key concern for millions in the UK right now.
Knowledge is power: our research provides an insight into what appliances are costing you the most to run each month, and which may be worth cutting down on – but it's also clear that many of the appliances listed are simply daily necessities for many.
Cost of Running Appliances in a Household
| Appliance | kwH | Cost per Month | Cost per Year |
| --- | --- | --- | --- |
| Air Con (8 hours/day) | 492 | £137.76 | £1,653 |
| Electric heater (2 hours/day) | 60 | £16.80 | £201.60 |
| Tumble Drier ( family of 4) | 48 | £13.44 | £161.28 |
| Washing Machine (family of 4) | 36 | £10.08 | £120.96 |
| Fridge Freezer (24/7) | 34 | £9.52 | £114.24 |
| Kettle (15 mins/day) | 24 | £6.72 | £80.64 |
| Games console – Xbox One X (4 hoursday/) | 21.6 | £6.05 | £72.58 |
| 43" LED SMART TV (5 hours/day) | 10.7 | £3.00 | £35.95 |
| Single incandescent light bulb (4 hours/day) | 7.2 | £2.02 | £24.19 |
Appliance kWh data sourced from Confused.com.
Yasmin Purnell
Yasmin Purnell is a Content Writer and Editor for Moneytransfers.com. Yasmin has a wealth of experience writing across a range of topics within the personal finance, student, and business niche. Yasmin joined the team with the one main mission to provide accessible financial, career and business information and advice for all.