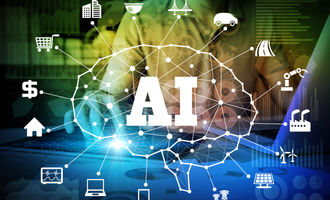 Revealed: Where to find the most AI jobs in the US

Yasmin Purnell
Jobs related to artificial intelligence (AI) account for a growing share of the US labour market – but the number of positions available varies greatly depending on where in the country you look.
Unsurprisingly, California is home to by far the most jobs in AI; more than double the number in the next-biggest hub, Texas. The 2022 AI Index Report, using data from analytics firm Emsi Burning Glass, found more than 80,000 AI jobs being advertised in Cali in 2021, ahead of 34,000 in the Lone Star State. 
They were followed by New York (24,491), Virginia (19,387) and Washington (29,253). 
What are jobs in artificial intelligence? 
AI refers to anything that humans program machines to do more efficiently or accurately than they can do themselves, so covers far more areas than some people realise (no, it's not all robots). 
According to IBM, "​​In its simplest form, artificial intelligence is a field which combines computer science and robust datasets to enable problem-solving."
AI is used in data analytics, self-driving cars and other modes of transport, sports analysis,  chatbots, facial recognition, speech recognition, stock market trading, and much more. 
Employability in AI
In the data looked at by the 2022 AI Index Report, AI jobs accounted for 0.9% of US jobs posted in 2021, up from 0.3% a decade earlier. 
Meanwhile, the US Bureau of Labor Statistics has predicted there will be a 15% increase in computer and information research jobs in the decade to 2029, which includes roles as AI specialists and machine learning engineers.
"There's no doubt that AI continues to be a hot topic for people to train in or retain into, if they are looking for a range of job opportunities and salaries in the six figures,"

comments Jonathan Merry, CEO of MoneyTransfers.com. 
"AI is increasingly going to power and influence the systems that underpin our society and make our everyday routines function. Companies are crying out for skilled labour; and it's also unsurprising that many people are keen to enter this field, despite the tough technical demands."
More Research News
Yasmin Purnell
Yasmin Purnell is a Content Writer and Editor for Moneytransfers.com. Yasmin has a wealth of experience writing across a range of topics within the personal finance, student, and business niche. Yasmin joined the team with the one main mission to provide accessible financial, career and business information and advice for all.