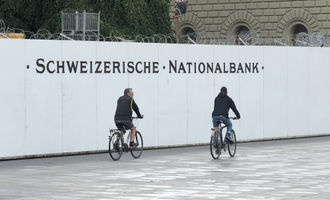 EUR to CHF Crashes Below Parity as Franc Strength Gains Steam

Crispus Nyaga
The Swiss franc is in a strong bullish trend against key currency peers. The EUR to CHF exchange rate dropped below parity for the first time since March this year. It has fallen by over 10% from its highest point in 2021. Similarly, the USD/CHF rate has fallen by over 5% from its highest point this year.
Hawkish Swiss National Bank
The EUR to CHF exchange rate has crashed hard because of the tough stance taken by the Swiss National Bank. In its two-day meeting held this month, the bank surprised most people when it decided to hike interest rates. The size of the increase also caught many people by surprise.
The SNB decided to increase interest rates by 0.50%, the biggest increase in more than a decade. This hike was a surprise since the bank is known for its significant dovish tone. At the same time, the SNB hinted that it will hike several times this year. 
This tone is mostly because of the rising inflation and the tight labor market in Switzerland. Data published by the government showed that inflation rose above the SNB's target of 2.0% in May. The unemployment rate has dropped to a record low of about 2.1%. 
Therefore, the EUR/CHF exchange rate dropped because the SNB moved faster than the European Central Bank (ECB). The ECB has maintained negative interest rates and it recently restarted its scaled-down asset purchases to support risky countries like Spain and Italy.
Historically, the SNB prefers low-interest rates, which then devalues the Swiss franc. A weak CHF is usually more advantageous to the Swiss economy because of its over-reliance on exports.
EUR to CHF outlook
Analysts believe that the Swiss franc strength will continue in the coming months unless the SNB changes its mind. 
Besides, the broader European economy is expected to recover at a slower pace than that of Switzerland. That's because Swiss does not rely substantially on Russia's oil and gas. 
Also, analysts believe that ECB's rate hikes will be at a slower pace than those of SNB. An aggressive ECB will likely present the bloc with another debt crisis. 
The performance of the EUR to CHF pair will have an impact on cross-border payments in the bloc. Eurozone's recipients of the franc will now receive less amount of money. With MoneyTransfers, you can compare the fees charged by various forex brokers.
Crispus Nyaga
Crispus is a financial analyst with over 9 years in the industry. He covers the stock market, forex, equities, and commodities for some of the leading brands. He is also a passionate trader who operates his family account. Crispus lives in Nairobi with his wife and son.