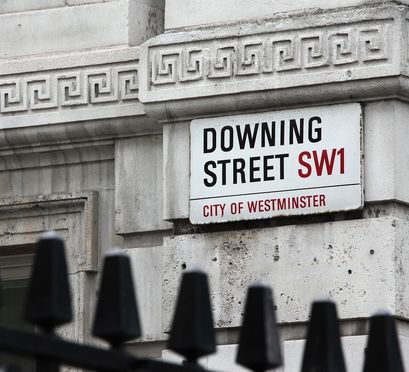 The Net Worths of the Potential Next Tory Leaders

Yasmin Purnell
Following Boris Johnson's announcement that he would be stepping down as the leader of the Conservative Party as of 6th September has sparked a race for Conservative MPs to announce their bids for the Conservative Party leadership. Amongst those who have announced their bids are Rishi Sunak, who rose in popularity as Chancellor of the Exchequer during the COVID-19 pandemic, Liz Truss, and Nadhim Zahawi.
Here, MoneyTransfers.com has taken a look into the background of those that are in the running for the Tory leadership and revealed the astronomical net worth of some of the MPs in the running.
Top Earners in the Running for the Conservative Party Leadership
– Rishi Sunak, former Chancellor of the Exchequer, is estimated have a net worth of over £200 million. Meanwhile, his wife is estimated to have a net worth of over £500million.
– Nadhim Zahawi, who replaced Mr Sunak as Chancellor just last week, has an estimated net worth of over £100 million. It was revealed that prior to entering politics, Mr Zahawi earned over £1.3 million from one role.
– Jeremy Hunt takes the third spot, with an estimated net worth of £14 million.
Why look at the net worths of Conservative ministers?
It's important to know who is potentially going to represent your interests by leading the country, and that means knowing the backgrounds ministers come from and what they've achieved prior to stepping into politics. This insight sheds some light into the kind of wealth enjoyed by the ministers that are primed to become the next Prime Minister.
Tory Leadership Runners' Net Worth's Revealed
Rishi Sunak
Net worth: Over £200 million.
Until quite recently, Mr Sunak was certainly seen to be a frontrunner to succeed Mr Johnson for the Tory leadership. The former chancellor gained popularity within the party and with the public following his rollout of measures to support businesses and workers throughout the COVID-19 pandemic and resulting lockdown. However, policies such as a rise in national insurance, the former chancellor's involvement in party gate, and revelations about Mr Sunak's multimillionaire wife's non-dom tax status as an Indian citizen have caused him to fall firmly out of favour with the public.
Rishi Sunak's government salary as an MP and Chancellor of the Exchequer was £151,649, but his wealth certainly does not stop there. The Sun reports that he owns at least four properties in addition to his main home, a £7 million house in Kensington. Additionally, before going into politics, Mr Sunak was a hedge fund manager and estimated to have earned over £100k/year throughout his career. 
Beyond Mr Sunak's estimated net worth of £200million is the even more astronomical fortune his partner has. His wife, Ms Akshata Murty, is the daughter of Narayana Murthy, one of India's richest men. Subsequently, the heiress is estimated to have a fortune of around £500 million.
Nadhim Zahawi
Net worth: Over £100 million.
Nadhim Zahawi was appointed as the Chancellor of the Exchequer just last week – prior to that, he was Secretary of State for Education and has been an MP for Stratford-on-Avon since 2010.
Mr Zahawi's net worth is estimated to be upwards of £100m, including a vast property portfolio. Before entering politics, Mr Zahwai founded YouGov, and has previously been linked to Balshore Investments, which held more than £20million in shares in YouGov. What's more, the Daily Mail revealed that he earned more than £1.3 million from a role with Bermuda-listed Gulf Keystone in 2015 before becoming a minister. It is thought that in his time as chief strategy officer at Gulf Keystone Petroleum, he was earning a salary of £20,125 a month or £765,000 annually.
Jeremy Hunt
Net worth: Over £14 million.
Jeremy Hunt has served as MP for South West Surrey since 2005, and is currently the Chair of the Health and Social Care Select Committee. Prior to this, Mr Hunt served in the Cabinet as Secretary of State for Culture, Health and Social Care, and Foreign Secretary. This is Mr Hunt's second attempt to run for the Conservative Party leadership election, previously finishing second to Boris Johnson in 2019.
As a former management consultant, Mr Hunt is estimated to have a net worth of around £14million after selling his shares in Hotcourses, his education company, in 2017. In addition, Cabinet ministers earn £141,505 a year, so this would have been on top of any earnings Mr Hunt received outside of his role as Cabinet minister.
Liz Truss
Liz Truss has been an MP for South West Suffolk since 2010, served as Foreign Secretary since 2021, and Minister for Women and Equalities since 2019. Her bid for the Tory leadership has been backed by politicians such as Jacob Rees-Moggs and Nadine Dorries.
Prior to entering politics, Truss worked as an accountant for Shell. Truss's net worth is unclear, although it's estimated to be around £8.4 million considering her lucrative career at Shell, long-standing position as a minister, and releasing several books.
Suella Braverman
Suella Braverman became MP for Fareham in 2015, and has been Attorney General since 2020.
In 2021, the Mirror reported that Ms Braverman is entitled to a salary of £99,732 for her Cabinet position, on top of her £81,932 pay as a Conservative MP. The Attorney General's exact net worth is not known, but Apumone reported it to be between around £3.3 million.
Tom Tugendhat
Tom Tugendhat has served as Chairman of the Foreign Affairs Committee since 2017, and has been an MP for Tonbridge and Malling since 2015. Prior to moving into politics, he worked as a journalist in the Middle East, and served in Iraq and Afghanistan as an officer.
There is not much information regarding Mr Tugendhat's net worth online. The politician will be earning a salary of £84,144 per year for his role as MP and Chairman, but considering he owns a property of four flats in France with family members, shareholdings in real estate and a data analytics companies, we can assume that his net worth is more than the sum of his salary. Apumone values his net worth to be at £3.3 million.
Penny Mordaunt
Penny Mordaunt has been an MP for Portsmouth North since 2010, and has served as Minister of State for Trade Policy since 2021. Prior to this, Ms Mordaunt was Secretary of State for Defence in 2019 under Theresa May's government. 
Ms Mordaunt's career has focused primarily on public relations. She was a director at the Community Fund, and became one of six directors of Diabetes UK in 2006. Apumone values Ms Mordaunt's net worth at £3.3 million.
Kemi Badenoch
Kemi Badenoch has been an MP for Saffron Walden since 2017, and between 2021 and 2022, served as Minister of State for Local Government, Faith and Communities, and Minister of State for Equalities. Prior to moving into politics, Ms Badenoch worked as a systems analyst at RBS, then later as a director at The Spectator magazine.
Kemi Badenoch's claimed salary as Minister of State is £31,680 on top of her salary as an MP. Her overall net worth is estimated at £3.3 million.
Jonathan Merry, CEO of MoneyTransfers.com, comments:
"The cost of living crisis means finances are even more of a worry to the general public than they have ever been before, and transparency amongst our politicians regarding their own income streams and net worth is crucial.

Whether the unimaginable wealth enjoyed by every frontrunner for the Tory leadership will put off the public, or inspire them, remains to be seen."
Yasmin Purnell
Yasmin Purnell is a Content Writer and Editor for Moneytransfers.com. Yasmin has a wealth of experience writing across a range of topics within the personal finance, student, and business niche. Yasmin joined the team with the one main mission to provide accessible financial, career and business information and advice for all.