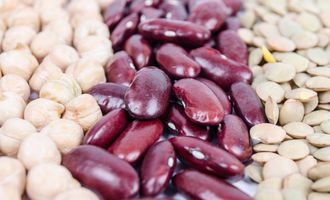 Meat-Eaters Could Save Up To 84% Opting for Plant-Based Alternatives

Yasmin Purnell
A study by the Office for National Statistics recently revealed that around one in four adults are eating less meat in order to save money. With a great deal of food items seeing sharp increases in price, however, MoneyTransfers.com has investigated the typical price of meat and meat replacements in the UK to assess just how much money you can really save.
We found that when comparing beef, chicken, and fish with popular meat-replacements such as fake mince or chicken, tofu, and beans, the most drastic savings that can be made are in opting for meals with more beans, lentils, and pulses.
Whole foods save money
These findings are in line with a landmark study released by Oxford University in 2021, which revealed that on average, vegetarian and vegan diets (high-grain and high-veg) are less expensive than current diets favouring meat.
While fake meats are notoriously expensive as a replacement for meat, people looking to save money on their protein sources will be best served opting for cheap recipes using lentils, beans, and pulses, costing around £2.40 per KG.
The cost of chicken breasts (£5.99) is actually on par with the cost of fake chicken pieces (£5.90) per kilogram. Overall, the price difference between meat and fake meats is minimal – with Richmond meat free mince actually costing more per KG than 12% beef mince.
16% Increase on the cost of beef
The cost of food, much like everything else, has skyrocketed in the past year, leading many people to take certain measures to cut down their spending. Figures from the ONS show that between April 2021 and April 2022, the price for beef increased by 16% – increasing by 32p for 500g to £2.34. 
Likewise, chicken breast prices were also up 28p, with 600g worth costing an average of £3.50. These two products saw the largest price rise across the year, sharply followed by pasta, vegetable oil, crisps, and rice.
Jonathan Merry, CEO of MoneyTransfers.com, comments:
"With beef and chicken seeing the largest average price increase year on year, it's no real surprise that many people are turning to alternatives in order to cut down their food bills.

Our data supports the conclusion that rather than attempting to replace your favourite beef mince with a fake meat alternative, consumers would be best served financially to opt for high-protein, high-carbohydrate and cost-effective options such as beans and pulses."
Data:
| Meat or meat replacement | Per kg | Per pack | Weight per pack |
| --- | --- | --- | --- |
| Beef (British 12% Fat Mince) | £5.60 | £2.80 | 500g |
| Chicken (Breast fillets) | £5.99 | £5.99 | 1kg |
| Fish (cod fillets, chilled) | £15.00 | £3.75 | 250g |
| Tofu | £6.31 | £2.50 | 250g |
| Fake mince (Richmond meat free) | £7.14 | £2.50 | 245g |
| Fake chicken (Quorn chicken style pieces) | £5.90 | £2.95 | 500g |
| White beans (tinned) | £2.55 | £0.60 | 400g |
| Pinto beans (dried) | £2.40 | £1.20 | 500g |
| Chickpeas (tinned) | £2.50 | £0.60 | 400g |
| Lentils (dried red) | £2.40 | £1.20 | 500g |
Source: Sainsbury's Online
Yasmin Purnell
Yasmin Purnell is a Content Writer and Editor for Moneytransfers.com. Yasmin has a wealth of experience writing across a range of topics within the personal finance, student, and business niche. Yasmin joined the team with the one main mission to provide accessible financial, career and business information and advice for all.