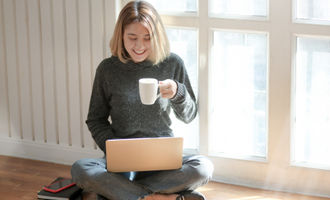 52% of Young American Workers Are Considering Going Freelance

Toby McInnis
The growing popularity of freelancing is set to reach terminal velocity – at least, that is the implication of a range of recently emerging data. 
MoneyTransfers.com has analysed a range of studies that demonstrate the extent that freelancing has captured the imagination of US workers – and found a particularly strong segment of young workers see freelancing as a positive alternative to the strictures of traditional employment.
Key Findings
More than 4 in 10 full-time workers are considering becoming freelancers – including over half (52%) of Millennials and Gen Z employees.
It is expected that freelance work will make up more than half of the US workforce by 2027, with projections that 86.5 million people will do some form of freelance work by that time.
This is driven in large part by a desire for flexibility, with 43% of full-time employees saying they envy the perceived freedom of freelancers.
Why is freelancing becoming more popular?
Perhaps the biggest reason is simple: freelancing has become far more logistically plausible in recent years. The rise of digital freelancing platforms has made finding and retaining clients easier, as has the normalisation of remote working. Recent research suggests that 70% of executives plan to use more freelance talent after COVID-19 – creating a huge wave of opportunities.
Money is also a big incentive for many. 44% of freelancers make more money than they did in traditional employment. And things seem to be on the up: the average global freelancer's hourly income rose from $21 in 2020 to $28 in 2022, though this growth is admittedly dampened by inflation.
Freelancers also enjoy many benefits full-time employees don't have. The inherent flexibility is highly appealing, with over 40% of full-time workers saying they envy it. And it appears those benefits really do result in a higher quality of life – 77% of freelancers claim to be very satisfied with their work situation.
What comes next?
Current projections suggest freelancing will be the dominant mode of American work by 2027 – but this is not a foregone conclusion. Two factors will determine how far the trend goes:
1. Lifestyle sustainability
A large majority of those currently freelancing are recent converts; it is unclear whether this will prove to be a long-term shift or a short-term diversion. Freelancers may earn more and have greater freedom, but there is also a risk of isolation and precarity, as well as the pressure to fund one's own benefits – such as healthcare and holidays. 
2. The growth of opportunities
The second question is whether those in the position to hire talent will embrace freelancers long-term, though there is strong reason to expect they will. 
Less than half of executives believe their current workforce is adaptable to the new future of work, and 77% of executives believe freelance and gig workers will substantially replace full-time employees within the next five years.
There are also financial benefits: 32% of organisations plan on replacing full-time employees with temporary workers as a cost saving measure. Roughly 54% of Google's workforce is freelance, for example, allowing the company to cut costs on employee benefits and enlist specialists on a short term basis for specific requirements.
Jonathan Merry, CEO of MoneyTransfers.com had this to say:
It is unsurprising that the freelance lifestyle has captured young people's imaginations especially. Having seen the impact COVID-19 had on job security, this generation of workers will want to be as self-sufficient and free as possible.

Jonathon Merry, CEO of MoneyTransfers.com
Toby McInnis
Toby McInnis is a writer based in London. He works with some of the fastest growing startups in the world, covering industries as diverse as finance, technology, logistics and healthcare.