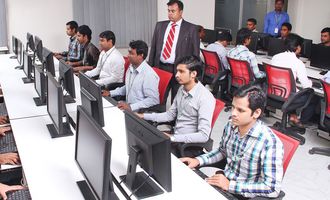 India's Co-Working Office Spaces Demand Surges 233% in H1 2022

Elizabeth Kerr
As the world of work continues to evolve, co-working spaces are becoming increasingly popular. Co-working involves sharing a workspace with other professionals, often from different companies or industries.
India is one of the nations at the forefront of the co-working revolution. A MoneyTransfers H1 2022 data presentation shows co-working spaces constituted 20% of India's roughly 21M square feet of office space available then. That represented a 233% surge from the 6% share it had in H1 2021.
Jonathan Merry, CEO of MoneyTransfers, has been studying the data and concludes that co-working spaces are the future of office spaces in India. He highlights the growing trend of co-working spaces in major cities and their growing popularity with young professionals and seasoned entrepreneurs.
What we're seeing is a dramatic shift in how people want to work. There's a growing preference for co-working spaces over traditional office spaces, and we believe this trend will only continue. This shift has major implications for how businesses operate in India, and businesses and workers should evolve to take advantage of it.

Jonathan Merry, CEO of MoneyTransfers
What's Pushing India's Demand For Co-working Spaces?
Merry attributed the rise in the demand for co-working spaces to the waning popularity of the traditional 9-5 working model. With the rise of the internet and mobile technologies, people can now work from anywhere at any time. As a result, there is a growing need for flexible office spaces.
Secondly, the co-working spaces provide a more collaborative and creative environment than traditional office spaces. Merry explained that co-working spaces promote networking and knowledge sharing, which helps to stimulate innovation.
Lastly, the CEO noted that co-working spaces are becoming increasingly popular in India due to the country's burgeoning startup ecosystem. He said these spaces provide startups with affordable and convenient options for setting up their operations.
Mapping India's Co-working Spaces
Bengaluru, Hyderabad and Chennai are some of the top cities in Southern India, and they have seen a surge in co-working office spaces in recent years. They have collectively realized a net office absorption of roughly 12 million square feet. Co-working players accounted for 18% or approximately 2.23 million square feet of this space.
The western markets of Mumbai Metropolitan Region and Pune contributed nearly 5.45 million square feet of office space, and 27% of that was by co-working players. Meanwhile, co-workers occupied 15% of the approximately 2.75 million square feet of office space in the National Capital Region.
Despite a general rise in the demand for flexible office spaces, some sectors registered declines. For instance, the IT/Tele-working sector, which in H1 2021 accounted for 49% of shared office space demand, saw that share drop to 36% in H2 2022.
This drop is mainly because many companies in that space are now opting for flexible office spaces than regular ones.
Wide Distribution of Co-working Spaces
According to Anuj Puri, Chairman of ANAROCK Group, one of the key factors driving demand is that co-working spaces are not centralized in urban centers or primary employment nuclei. Instead, they fan out across different areas, including the highly populated suburbs.
Additionally, some malls and hotels are providing co-working spaces now. With the concept becoming increasingly popular, we will likely see even more co-working spaces springing up soon.
Elizabeth Kerr
Elizabeth is a financial content specialist from Manchester. Her specialities include cryptocurrency, data analysis and financial regulation.