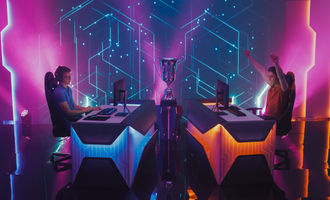 Revealed: Top Professional Fortnite Players Outearn Many Championship Footballers

Toby McInnis
For the majority of people, the idea of playing video games for a living still occasions a smirk. But it is becoming increasingly clear that eSports is not only a legitimate career path for many young competitors – they often vastly out-earn athletes in more traditional arenas.
To contextualise the earning power of professional video gamers, MoneyTransfers.com has taken data on the earnings of top-flight Fortnite players – and compared it with the reported salaries of English Football League (EFL) Championship footballers. 
The results are striking: while Fortnite players make a fraction of Lionel Messi or Cristiano Ronaldo's total earnings, many actually out-earn the average Championship footballer, suggesting that playing video games is not only a legitimate career, but a highly lucrative one.
– 12 different Fortnite players have raked in over $1 million in competition winnings, with the top player, Kyle Giersdorf, earning nearly $3.5 million since 2019.
– However, this does not properly capture these players' earnings. Streaming provides a powerful supplementary stream of income for top players, with Kyle Giersdorf bringing in $180,000 each year from YouTube and Twitch advertisements.
– The average annual salary in the EFL Championship league for the 2021/22 season was £401,323.458 – which currently converts to roughly $469,315.28. This suggests Kylie Giersdorf has earned more in the last four years than the average EFL Championship footballer, as have a number of other Fortnite players.
Fortnite finally pays
Until recently, the majority of money to be made from eSports was in commentary. But with a growing audience for professional competitions, the prize money has increased – helping the best players win a shed load of money. 
Kyle "Bugha" Giersdorf 
The majority of Kyle's competition winnings come from his victory in the Fortnite World Cup 2019, where he bagged an eye-watering £3 million. He has won five-figure sums in 10 other professional competitions.
Total competition winnings: $3,475,645.05
David "Aqua" Wang
The majority of his earnings came from winning the Fortnite World Cup Duo competition, for which he netted $1.5 million. He has won six-figure sums at two other competitions, along with a slew of 5-figure prizes in other competitions.  
Total competition winnings: $2,161,424.23
Harrison "Psalm" Chang
As the runner up of the Fortnite World Cup Solo competition, Change earned $1.8 million. He's topped up these earnings with 6 5-figure prizes, having won 10 different tournaments. 
Total competition winnings: $1,874,588.80
Shane "EpikWhale" Cotton
Cotton took 3rd place in the Fortnite World Cup Solo competitions, winning $1.2 million. He earned a further $125,000 earlier this year at Gamers8 2022, along with 16 other championship wins across his career.
Total competition winnings: $1,692,367.32
Emil "Nyhrox" Pedersen
Pedersen was David Wang's partner in the Fortnite World Cup Duo competition, bringing in $1.5 million. However, he has competed in fewer competitions than most, with just 3 tournament championships to his name.
Total competition winnings: $1,540,195.69
Compare these earnings with footballers competing in the EFL Championship:
Average Annual Salary of Each EFL Team
| EFL Team | Average Annual Salary |
| --- | --- |
| Barnsley | £137,217 |
| Birmingham City | £446,609 |
| Blackburn Rovers | £216,115 |
| Blackpool | £216,069 |
| Bournemouth | £914,269 |
| Bristol City | £379,167 |
| Cardiff City | £513,333 |
| Coventry City | £122,857 |
| Derby County | £348,696 |
| Fulham | £1,164,360 |
| Huddersfield Town | £200,370 |
| Hull City | £186,749 |
| Luton Town | £106,400 |
| Middlesbrough | £291,250 |
| Millwall | £360,870 |
| Nottingham Forest | £398,415 |
| Peterborough | £159,536 |
| Preston North End | £235,429 |
| Queens Park Rangers | £221,667 |
| Reading | £829,636 |
| Sheffield United | £713,055 |
| Stoke City | £608,462 |
| Swansea City | £262,917 |
| West Bromwich Albion | £598,315 |
Converting these figures at the current dollar exchange rate, we get a mean average EFL Championship annual wage of $469,315.28. This would suggest the average Championship player had earned slightly more than most of the top Fortnite players in the last four years. But this leaves out an important factor, which is that competitive video gamers have multiple highly lucrative income streams.
Supplementary earnings matter
Take Kyle "Bugha" Giersdorf: as the top earning Fortnite of all time, official data shows that he's banked $3,475,645.05 in prize money across his career. But that is not where his income ends. 
He also runs extremely popular Youtube and Twitch channels, which boast 4.25 million and 5 million subscribers respectively. Industry estimates put his monthly earnings from Twitch at between $8,000 and $10,000, while YouTube reportedly earns him up to $5,000 each month. 
His streaming income therefore nets him up to $180,000 each year. And while there is no publicly available data on his earnings from sponsorships, product partnerships or merchandise, it is safe to say each of these bring in a significant chunk of change too.
What does the future hold?
To date, there have been 23 different Fortnite competitions with prize money over $1 million. But by far the most lucrative competition so far was the Fortnite World Cup, which was run all the way back in 2019 – and offered over $30 million prize money across its solo and duo competitions. 
Given that another World Cup has been announced and will take place in November of this year, we should expect the Fortnite earnings reported here to receive a big boost by the end of the year.
Here is what Jonathan Merry, CEO of MoneyTransfers.com, had to say:
This data review shows just how lucrative video gaming can be – and hopefully will help convince the public that this is a legitimate career path. It's also worth noting that this is just one game – and while Kyle Giersdorf's earnings are impressive, he is only 21st highest earner across all eSports.

Jonathan Merry, CEO of MoneyTransfers.com
Toby McInnis
Toby McInnis is a writer based in London. He works with some of the fastest growing startups in the world, covering industries as diverse as finance, technology, logistics and healthcare.