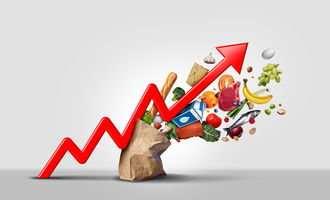 Inflation overtaking Coronavirus as people's main concern across the world

Mehdi Punjwani
Google Trends data shows that interest in inflation has increased over the last 12 months, with the average daily searches rising by over 1000% between July and October 2022 compared to the same period last year.
While much of the news coverage in the last few years has been dominated by the COVID-19 pandemic, recent times have seen the cost of living rise for many across the world. Since August, search levels for inflation have been similar to that of Coronavirus.  
The state of the economy has indeed been heavily influenced by the outbreak, which began in 2019, but other factors like the Russian invasion of Ukraine, rising oil prices and political turmoil have also contributed.
MoneyTransfers.com has taken a look at the growing trend of concern about inflation, where people are most worried about it, and how it stacks up against other issues.
Relentless inflation
According to Google Trends data, searches for inflation generally peak around the same time every month, in line with the release of the Consumer Price Index report. The report for September was released on the 13th of October 2022 – one of the very few times searches for inflation have actually overtaken Coronavirus.
Searches for inflation also exceeded Coronavirus once in September and a couple of times in August
Coronavirus searches peaked in March 2020 when the pandemic began but are currently at their lowest
It revealed an array of figures that show Americans are struggling with rapid price increases. The report also triggered a swing in the market on the day of release, highlighting the growing fear surrounding the economy.
Worldwide worry
While prices rise in the USA and across the world, a What Worries the World survey by Ipsos shows that two in five people see inflation as their number one concern. This has doubled since the start of 2022.
The highest figures were reported in Poland (67%), Argentina (65%), and Turkey (56%), and a total of 12 countries had inflation as their biggest worry.
This is a contrast to those seen for Coronavirus as only 12% of people in 29 countries viewed it as a top concern. It came tenth in the list behind inflation as well as poverty and social equality (31%), crime and violence (26%) and climate change (18%).
The rising worry is to be expected, especially after a damaging few years post-COVID-19. Inflation is a damaging phenomenon, and it's right that people are concerned about it. Given how impactful the pandemic was, and with an unavoidable recession on the horizon, it's understandable that society's current outlook isn't overwhelmingly positive or optimistic. But it's also a time for people to come together, as many did so valiantly throughout Coronavirus.

Jonathan Merry, CEO of MoneyTransfers.com
Mehdi Punjwani
Mehdi is a writer and editor with over five years of experience in personal finance, writing for brands including MoneySuperMarket, Equifax and The AA. He graduated from Brunel University with a BA and MA, and likes to spend his free time hiking, travelling, and reading.