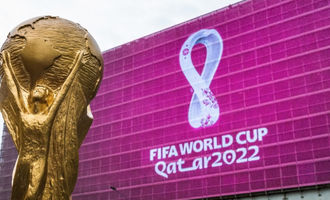 World Cup 2022: Migrant Workers Need to Work 113 Years to Earn Equivalent of 1 Month's Earnings for Players

Yasmin Purnell
The average migrant worker building stadiums for the World Cup in Qatar 2022 would need to work for 113 years in order to earn what a premier league football player makes in one month, has calculated*.
Premier league players make an average of £240,000 ($280,000) per month. The highest paid-player, David De Gea, makes more than six times the average, raking in £1.5 million every single month. In contrast, a migrant worker in Qatar is guaranteed a minimum wage of $206 per month (750 Qatari riyals).
Jonathan Merry, CEO of MoneyTransfers.com, comments:
The exorbitant wages premier league footballers earn is not new information – but the parallels between the players who will be competing in the World Cup, and the workers who built the very stadiums the tournament will be held in, are stark. With such wealth disparity within this year's biggest football event, the need to address the wage abuse thousands of migrant workers in Qatar have reportedly faced in the twelve years since the country was awarded the right to host the World Cup is even more urgent.

Jonathan Merry, CEO of MoneyTransfers.com
Qatar's migrant worker population
Much controversy has surrounded the 2022 Qatar World Cup. Centring the debate has been the poor conditions workers building the stadiums face every day. Qatar relies on approximately 2 million migrant workers who make up 95% of the country's labour force, and have been almost solely responsible for creating the infrastructure that will support the World Cup. This includes the stadiums themselves, as well as hotels, transport links, and more to support the influx of people into the country in November.
Migrant workers are guaranteed a minimum wage of 750 Qatari riyals per month, which is the equivalent of approximately $206 each month. However, multiple human rights organisations have revealed that for many workers, even that monthly income isn't guaranteed.
More, MoneyTransfers.com recently revealed that 101 migrant workers have died per match played in the 2022 World Cup, with the total figure up to 6,500 deaths in the 12 years since Qatar was awarded the tournament.
$440 million to repair abuse
Amnesty International's report Predictable and Preventable, highlights the scale of wage abuse in Qatar since 2010. "Leaving their families in search of better jobs," it states, "many found themselves caught in a deeply exploitative labour system, denied their fundamental rights to decent working conditions".
At the heart of these issues is Qatar's kafala (sponsorship) system, which ties a worker's right to work with their employer, leaving migrant workers vulnerable to wage abuse. Migrant workers often arrive in the country having already paid "exorbitant recruitment fees to secure jobs," leaving them with little choice but to continue working even if their working conditions and pay are different than originally promised upon arrival. In addition, workers were not able to change jobs or leave the country without the permission of their employer – although legislation has since been brought in to change these restrictions.
The human rights organisation recommends that Fifa sets aside "an amount not less than the $440 million prize money…to be invested in funds to support remediation". To put that suggested figure into perspective, Manchester City's revenue in 2022 was $766 million – with a further nine professional league football clubs earning a revenue over the suggested $440 million in 2022 alone. 
The Qatar World Cup may have been overshadowed by the human rights abuses millions of workers face within the country, but reports show that tickets continue to sell at similar rates to previous World Cups. An estimated 2.9 million tickets had been sold by mid-October, according to Fifa President Gianni Infantino.
*280000/206 = 1359. 1359 months into years is 113.
Yasmin Purnell
Yasmin Purnell is a Content Writer and Editor for Moneytransfers.com. Yasmin has a wealth of experience writing across a range of topics within the personal finance, student, and business niche. Yasmin joined the team with the one main mission to provide accessible financial, career and business information and advice for all.