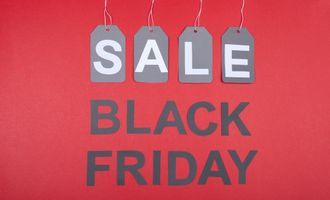 Use Of Buy Now Pay Later Apps Increased By 78% During Black Friday

Toby McInnis
Given the ongoing cost of living crisis, most experts predicted this Black Friday to be far more muted than 2021. But early indicators suggest consumers have spent just as much this time around – just in ways that may end up causing them more harm. MoneyTransfers.com has analysed data that suggests a large proportion of Black Friday spending was done using Buy-Now-Pay-Later offers, suggesting consumers were convinced to spend beyond their means.
Key findings:
Black Friday sales rose 12% year-on-year in 2022, with 1 million more people shopping across the 'Cyber Five' than in 2019.
Buy-Now-Pay-Later (BNPL) orders increased 78% during the same time period.
A quarter of BNPL users see their total debt increase after using the apps, while 20% end up using credit cards to pay down the balance.
A Surprisingly Big Black Friday
With rapid inflation and people being forced to skip meals, most people expected Black Friday 2022 to be relatively underwhelming – with analysts predicting both sales and profit to be lower than the previous year. This was emphatically not the case: early indications suggest sales increased by 12% year-on-year in the U.S., while the UK saw a modest – but still higher than expected – 3.2% increase.
This may be explained by a few factors. First, many consumers likely saw the opportunity to save on their Christmas shopping. A recent New York Times article quoted one consumer saying she "hoped Black Friday will allow us to still have a good Christmas." Another survey found that a staggering 72% of people in Scotland planned to do most of their Christmas shopping on Black Friday.
Equally, the apparent increases may be in part a result of inflation. With the UK's consumer price inflation at 9.6% between October 2021-22, an increase in total revenue may still equate to a decrease in overall purchases. 
Yet sales were still higher than expected. And further data suggests this could tell a more worrying story.
Buy Now, Pay Later
The cost of living crisis has driven a huge number of consumers to use Buy Now, Pay Later (BNPL) apps, which allow them to make essential purchases when they don't have direct access to enough cash. During the last year, 69.5% of consumers say they've increased their use of such services – with 80% of 18 to 24 year olds saying they have done so. 53% of people who use these services say they do so out of necessity.
This is a problem: a quarter of BNPL users see their total debt increase after using the apps, while 20% end up using credit cards to pay down the balance. And this may be exacerbated by Black Friday.
Early data suggests usage of BNPL rose 78% the week of Black Friday, which may help explain how consumers were able to increase spending in the time of a recession. But if research into the negative effects of these services proves accurate, this may not be something to celebrate.
While the economy needs spending, and data on Black Friday sales is generally more positive than expected, consumers should be careful that they don't put themselves in a dangerous position here. Buy Now, Pay Later could serve a useful purpose, but there needs to be more education around how to use it – and how it can impact consumers' lives.

Jonathan Merry, CEO of MoneyTransfers.com
Toby McInnis
Toby McInnis is a writer based in London. He works with some of the fastest growing startups in the world, covering industries as diverse as finance, technology, logistics and healthcare.