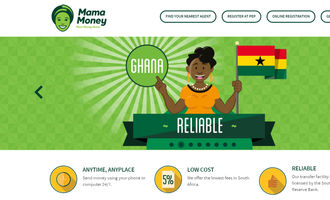 Mama Money partners with Western Union as it eyes global expansion

Crispus Nyaga
Mama Money, a South African fintech company, has partnered with Western Union in its efforts to expand its operations globally. Through this partnership, Mama Money customers will easily send funds across the world via Western Union's Global Network.
Mama Money and Western Union Enter into Partnership
A significant number of South Africans reside in other parts of the world. Over 4 million South Africans live, work, or study abroad. What's more, South Africa is a cosmopolitan nation with foreigners who need to send funds to their friends and relatives in their home countries. As such, there is need for a reliable fintech system that connects South Africa to the rest of the world.
Mama Money's deal with Western Union, which is a global leader in payments and money movements, is fit to meet this need.
The SA fintech firm has grown from having 6 workers in 2015 to over 120 employees. This vibrant growth is largely attributed to the drastic reduction of remittance costs. The reduced charges have been facilitated by a straightforward mobile app that makes money transfers across the world an easy and inexpensive affair. Coquillon, the co-founder of this fintech company, said:
"Our average fee is around 3% but we have dynamic pricing which means if you send more per transaction the fees are reduced and can be as low as 0.1%".  
At its onset, Mama Money only remitted to Zimbabwe. It has since expanded its reach to over 50 nations in Asia, Africa, and Europe.
How Does Mama Money's Mobile App Work?
Mama Money's easy-to-use mobile app enables its clients to make money transfers internationally in a matter of seconds. To register, one can use his/her mobile phone to upload images of their passport, ID, asylum, or refugee status documents. Upon approval, which usually happens within 24 hours, the customer is able to send funds abroad.
With the mobile app, one is able to send money directly from your bank account. alternatively, you can pay for goods or services at major retailers in South Africa including Shoprite, Makro, Game, Checkers, Pick n Pay, Boxer, and Cambridge.   
Money Transfer Partnerships Are on the Rise
The current coronavirus pandemic has triggered numerous collaborations in the money transfer sector. One of the most recent partnerships is the one that happened last week between MoneyGram and Digital Financial Services (DFS).
As we predicted before, these deals will continue as the remittance industry battles its worst challenge in decades. Besides, this approach will be helpful to traditional companies as they strive to maintain their relevance and compete on an equal platform with digital firms.
Indeed, the partnership between Mama Money and Western Union comes an apt time. Coquillon states, "When the April lockdown hit, we saw a massive drop in remittances leaving South Africa due to the restrictions on movement to paying for money transfers and uncertainty. However, we've seen a very swift recovery since May as economic activities began to resume".  
Are you in the process of sending money abroad? At MoneyTransfers, we can help you reduce remittance costs by comparing the fees charged by hundreds of companies.
Crispus Nyaga
Crispus is a financial analyst with over 9 years in the industry. He covers the stock market, forex, equities, and commodities for some of the leading brands. He is also a passionate trader who operates his family account. Crispus lives in Nairobi with his wife and son.