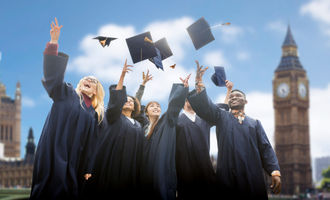 Cost of Living in London as a Student

Yasmin Purnell
The best city in the world for international students to study in was recently revealed to be London, once again taking the top spot for 2023. With a diverse student body, multiple world-class institutions, and a global hub with countless employment opportunities upon graduation, it's not difficult to see why the UK's capital city is such a sought after location for to complete their studies. However, year on year, one ranking factor that the city scores poorly on is affordability.
Here, MoneyTransfers.com have analysed exactly what the overall cost of living is for a student living in London using various student living surveys published in 2022.
Overall cost of living
The National Student Accommodation Survey 2022 asked over 1,200 students about the realities of student life in the cost of living crisis. As part of the data, they released the average spend on living costs for respondents from multiple universities across the UK. We extracted that data from 10 universities based in London and found the overall average cost of living in the city is approximately £1,130 per month. 
We found that the average total spend for students living in London, excluding accommodation, was just £338.50 per month. An additional £185is spent by students in London each week on rent.
Inclusive of accommodation costs, LSE recommends students allow at least £1,200 – £1,300 per month, while London Metropolitan University recommends over £1,300. In contrast, the Natwest Student Living Index revealed that the average total expenditure for students living in London in 2022 was just £996.73 per month – a considerable drop compared to other years.
Let's take a look at how that cost of living breaks down.
The figures show that undoubtedly, the housing crisis in the UK is contributing most to the high cost of living for students in London. The choice between expensive university accommodation or cheaper private rentals but the additional cost of household bills isn't an easy one, and many students are certainly suffering because of it. Outside of accommodation, the latest data suggests that London's students are financially savvy about where their money goes, and are making the most of a limited budget in one of the most expensive cities in the world.

comments Jonathan Merry, CEO of MoneyTransfers.com
Tuition Fees
Tuition fees for international students in London can cost between £10,000 – £38,000 per year. In contrast, UK students will pay around £9,250 per year. In general, medical degrees tend to cost even more than this, while humanities such as modern languages, literature, and philosophy tend to be cheaper.
Students from a non-EU country will usually be able to get a student loan directly from the Government. Your best course of action is to ask your university directly what help they can offer you.
Visa requirements
If you wish to study in London, current UK student visa requirements stipulate that you must have £1,334 per month (for up to 9 months) in your bank account for every month that you plan to stay in the country. This amounts to £12006 for 9 months, or £16,008 for the year. With most undergraduate degrees taking three years to complete, international students will need to have at least £48,000 to live and study in London for the duration of their degree.
You do not need to provide evidence of having enough money to support yourself if you are from a number of countries – these are listed on the GOV.UK student visa page.
Accomodation
Accommodation in London is higher than anywhere else in the UK – somewhat predictably, as this is consistent with housing and rental costs within the UK too. In London, students spend an average of £185 per week on their accommodation – or around £505.50  per month. The national average for student accommodation is approximately £455.40 per month.
The estimates across universities in the city differ wildly. UCL estimates accommodation expenses to total £8,073 per academic year (approximately nine months of this year), while UAL estimates halls of residence to be between £153 – £453 including bills, or between £120 – £350 per week for privately rented accommodation excluding bills.
In addition to these costs, the national average rental deposit per student is £285 (so it's likely to be higher for students living in London). Considering 1 in 5 report difficulty getting their full deposit back, this is another cost to keep in mind.
Household Bills
Household bills are extremely variable for students. Some, mostly living in university accommodation and private halls, will have their bills and internet covered within their accommodation costs.
Others, especially those living in privately rented accommodation, will likely save money on rent but will have to pay utility bills and internet. The average spend for household bills in London came to £25 a month, with a further £12 on average spent on mobile phone bills.
Council tax
Full-time students do not have to pay council tax, so this is one cost that students can save on. However, in light of most households receiving a £150 council tax rebate to help with the cost of living crisis, students could actually be missing out on financial support from the government.
School Supplies
The University of the Arts London advises students to set aside £100 to £500 a year for school materials, textbooks, and mandatory field trips. SOAS recommends students set aside £40 – £70 for books, supplies, and stationary. It should be noted that this is significantly more than the average course materials cost for London students in 2022, which came to just £10 per month.
Students looking to save money on course materials should avail free loans from the library and online software to cut down on the expense of brand new textbooks.
Food & Drink
The Natwest Index revealed that the biggest spend for the majority of students was their supermarket shopping, spending an average of £76.29 per month nationally. In London, this is higher.
Across 10 universities based in London, the average spend on groceries came to £87 per month, with a further £35.50 spent each month on takeaways and eating out.
Transport
Students spend an average of £28 per month on transport in London. Full-time students do receive the perk of a 30% discount off standard Tube and bus fares with a Student Oyster Card, so anyone travelling by public transport on a regular basis can save a lot of money with this discount.
Entertainment
Students are recommended to put aside at least £20 – £50 per week for entertainment expenses, such as going out to bars, pubs, the cinema etc. On average, students in London spend £49 a month going out. Despite this relatively high expense each month, an NUS study found that out of any other expenses, the majority (77%) of students have cut back on socialising since the start of 2022.
Clothing
London students spend an average of £29.50 on clothes and shopping each month. Although this is a fairly easy category to cut out completely to save costs, students should also be sure to take advantage of the many student discounts on offer from various high street shops.
Wellbeing
Notably, the survey found that the average spend on health and wellbeing from students based in London is just £11 per month, whilst Natwest's Index revealed the figure to be closer to £26.77. This would suggest that to save money on the cost of living crisis, students are making sacrifices to their overall wellbeing. 
Out of different stress coping strategies students use to deal with money worries,35% use exercise or sports over other self-help strategies such as support from friends and family (23%), therapy (13%), or their university's mental health support services (11%).
Yasmin Purnell
Yasmin Purnell is a Content Writer and Editor for Moneytransfers.com. Yasmin has a wealth of experience writing across a range of topics within the personal finance, student, and business niche. Yasmin joined the team with the one main mission to provide accessible financial, career and business information and advice for all.