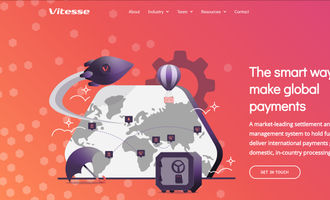 Vitesse raises £6.6 million for marketing and US expansion

Crispus Nyaga
Vitesse, a cross border payment provider, has raised £6.6 million from a group of investors, including Octopus Ventures and Hoxton Ventures.
Vitesse to use the funds for US expansion
For starters, Vitesse is a London-based fintech company that helps companies handle their cross-border transactions. It does this through its network of a global banking and payment network, which helps it serve customers in more than 100 countries. It targets companies in most industries, including insurance, payroll, financial services, e-commerce, and corporate
The global cross-border industry is a large one, considering that many companies are operating globally. Yet, the industry is plagued by inefficiencies, high costs, and delays.
This is the problem that Phillip McGriskin sought to solve, when he started Vitesse in 2014. He started the firm after he sold Envoy Services to WorldPay. In 2019, Fidelity National bought WorldPay in a $35 billion deal.
Vitesse has been growing
Vitesse has had a lot of growth in recent years. According to the management, it has handled more than £2.3 billion across more than 2.3 million transactions. This means that it averages about £1,000 per transaction. It has also managed to acquire leading companies like Gett, DXC Technology, and Brit Insurance as clients. In a statement, McGriskin told TechCrunch:
"(Cross border payments) They can be slow and expensive, and tracking and reconciling them and keeping compliant in a constantly shifting regulatory environment can prove difficult."
The firm intends to use the new haul to improve its marketing spending and expand to the United States.
In recent weeks, payment and SAAS companies have been among the best-performing brands in the world. Subsequently, some have raised millions of dollars from investors. For example, two weeks ago, Remitly raised $85 million at a valuation of more than $1 billion. At the same time, TransferWise, which has a similar business model to Vitesse, raised millions of dollars at a $5 billion valuation.
Are you in the process of sending euros to or from Europe? At MoneyTransfers, we can help you save money by showing you the transaction costs charged by hundreds of companies.
Crispus Nyaga
Crispus is a financial analyst with over 9 years in the industry. He covers the stock market, forex, equities, and commodities for some of the leading brands. He is also a passionate trader who operates his family account. Crispus lives in Nairobi with his wife and son.