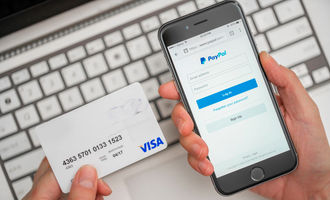 PayPal and Visa partner to roll-out Instant Transfer worldwide

Crispus Nyaga
PayPal, the biggest money transfer company in the world, has partnered with Visa to expand its Instant Transfer Service globally. The company intends to leverage Visa's international coverage to improve the speed of money transfers.
Instant transfer has been a success
PayPal launched instant transfer service in the United States in March 2019 by collaborating with JP Morgan. Ideally, the service helps customers access transferred funds by moving them to bank accounts. This process can reduce the wait time from days to seconds.
PayPal's partnership with Visa will help it expand the service internationally. This means that PayPal's customers across its products like PayPal, Venmo, Xoom, and iZettle will now have the Instant Transfer.
The decision by PayPal comes at a time when the amount of money being sent abroad is increasing after falling in March and April. Recent data from countries like Mexico and Philippines shows that international remittances have been on an upward trend.
It also comes a few weeks after PayPal reported excellent second-quarter earnings data. The company made more than $5.2 billion in the quarter as its total payment volume reached an all-time high.
PayPal facing stiff competition
At the same time, the news comes at a time when PayPal is facing intense competition from companies that offer instant payments. A good example of this is TransferWise, the UK-based company that enables people to receive money within minutes. Other popular companies that have unveiled a similar product are Square, Stripe, and Worldremit.
Meanwhile, many businesses who use PayPal's network are experiencing cash flow problems. In a recent survey, PayPal found that more than 76% of these firms are facing these problems. The Instant Transfer feature will help eliminate some of these challenges.
Visa will also benefit from this partnership because of its Visa Direct product. This is a product which allows people and businesses to send money internationally. In the most recent quarter, Visa announced that the service's revenue had grown by more than 80%. Commenting on the deal, Jack Forestell, the CFO of Visa said:
"By partnering with PayPal on a global scale, we are bringing together two trusted brands to provide hundreds of millions of consumers and small businesses globally with quick and secure payment options that can help them maintain financial stability."
Are you in the process of sending money to another country? At MoneyTransfers, we can help you save money by showing you the transaction costs charged by hundreds of companies.
Crispus Nyaga
Crispus is a financial analyst with over 9 years in the industry. He covers the stock market, forex, equities, and commodities for some of the leading brands. He is also a passionate trader who operates his family account. Crispus lives in Nairobi with his wife and son.