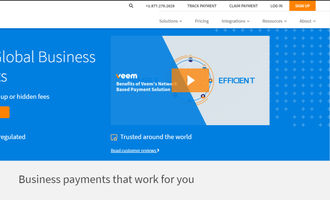 Veem raises $31 million from Truist for global expansion

Crispus Nyaga
Veem, a fast-growing cross-border payment company, has announced a new round of financing as it accelerates its global expansion.
Veem growth story continues
In a statement earlier today, Veem announced that it had raised $31 million from investors. Most of the funds are from Truist Financial, the sixth-largest commercial bank in the United States. Other participants in the round are MUFG Innovative Partners, Paper Excellence, and AB Ventures.
In total the company has raised more than $69.3 million from companies like Goldman Sachs, Kleiner Perkings, and Trend Forward. The firm will use the new funding to launch new features and expand to more countries.
Started in 2014, Veem is among the fastest-growing players in business-to-business cross-border transactions. The firm helps companies send and receive payments, and send invoices. It also offers mass payments and real-time payment solutions. Further, to simplify payments and accounting, it incorporates with other popular payment services like QuickBooks and Xero.
According to the company, its clients save up to 2 hours every week and more than $6000 on average every year.
The company has grown rapidly over the years. It now has more than 225,000 clients from around the world. Its clients are able to send and receive money from more than 100 countries. Announcing the deal, Morwan Forzley, CEO of Veem said:
"Our channel partner network serves as our vehicle to better commercialize our product offering and further expand upon our market development efforts."
Interest in fintech firms rising
The announcement of the deal comes at an important time for fintech and money transfer companies. Because of the pandemic, companies and individuals have realised the need for fast and reliable cloud-based companies. Indeed, the digital segment has been the main winner for companies like Western Union and MoneyGram.
At the same time, global investors have increased their appetite for fintech companies. Just yesterday, Klarna, the Swedish tech firm raised $650 million at a valuation of more than $10.6 billion. As a result, the young payment firm became the most valuable fintech firm in Europe.
The deal came a week after Thunes raised $60 million from investors. Other firms that have raised money recently are TransferWise, and Remitly.
Are you in the process of sending money to another country? At MoneyTransfers, we can help you save money by showing you the transaction costs charged by hundreds of companies.
Crispus Nyaga
Crispus is a financial analyst with over 9 years in the industry. He covers the stock market, forex, equities, and commodities for some of the leading brands. He is also a passionate trader who operates his family account. Crispus lives in Nairobi with his wife and son.