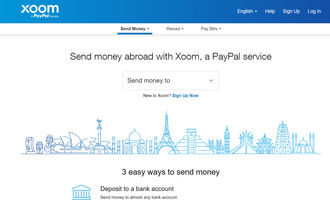 PayPal's Xoom launches money transfer to 12 African countries

Crispus Nyaga
Xoom has launched a new service that enables the transfer of funds directly to a mobile wallet in several African nations. The offering is part of its efforts to advance financial inclusion in the region.
Xoom announces direct money transfer service to mobile wallets in Africa
Xoom has introduced the direct transfer of funds to mobile wallets in various African markets. On 9th December, the PayPal's money transfer service announced that the service will be available to its customers in the UK, Canada, Europe, and the US.
As for now, individuals in these western nations will be able to transfer money to mobile wallets in Ghana, Kenya, Cameroon, Rwanda, Madagascar, Zimbabwe, Zambia, Tanzania, Uganda, Mozambique, Burundi, and Malawi. Xoom intends to add more markets onto this list in 2021.
The new service is an addition to Xoom's current offerings. The money transfer company enables the residents of 41 African countries to access remittances at cash pick-up locations or their bank accounts. It is also possible to get a mobile recharge via Xoom.
The firm's new offering has two pillars. To begin with, the money transfer company understands that mobile wallets have become a key component in Africa's financial infrastructure.
While speaking at the launch, Xoom's General Manager Julian King noted that:
"There is nowhere else in the world that moves more money on mobile phones than sub-Saharan Africa."
As of 2019, sub-Saharan Africa has 5 bank branches per every 100,000 individuals. In comparison, the mobile money accounts registered in the region are 1.04 billion.   
At the same time, Xoom recognises that financial inclusion is still a major challenge in Africa. Subsequently, it plans to boost financial inclusion in the continent by reducing transaction costs. With regards to this issue, King said, "sending money to Africa through traditional channels has always been expensive. We wanted to help bring down the cost and speed up the process to boost financial inclusion."
Africa bears vast opportunities in the digital money transfer space
Financial inclusion is crucial for Africa's economic growth. At the moment, the continent's cost of transferring money via traditional means is among the highest in the world. Leading money transfer companies are striving to increase their market share in the continent as they help improve the tale of financial inclusion in the region.
WorldRemit is one of the global money transfer firms with a notable presence in Africa's digital money transfer space. In October, it partnered with Mukuru to expand the fintech company's remittance service within southern Africa. WorldRemit has gone ahead to reduce charges on money transfers to various African destinations. The firm has also partnered with Airtel, MTN, and Safaricom to boost remittance to the continent.     
Are you in the process of sending money to another country? At MoneyTransfers, we can help you save money by showing you the transaction costs charged by hundreds of companies.
Crispus Nyaga
Crispus is a financial analyst with over 9 years in the industry. He covers the stock market, forex, equities, and commodities for some of the leading brands. He is also a passionate trader who operates his family account. Crispus lives in Nairobi with his wife and son.