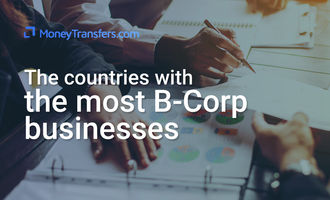 Countries with the most B-Corp Businesses

MoneyTransfers News Desk
We're more aware than ever of the impact our actions can have on the world around us, with news of climate change on every news cycle and green initiatives at every turn. Because of this, consumers are seeking businesses that promise to be more sustainable. MoneyTransfers.com sought to find which countries had the highest number of sustainable businesses.  
One way for companies to prove their sustainability is for them to seek out B-Corp certification. In order to achieve this, a company must complete the B Impact Assessment (BIA). This assessment is designed to help measure and manage your company's positive impact on your workers, community, customers and environment.  
Using an official database of registered corporations that have attained B-Corp certification, we found how many of these businesses each country had, broke them down into industries and scored in terms of the impact they had.  
Countries Top 10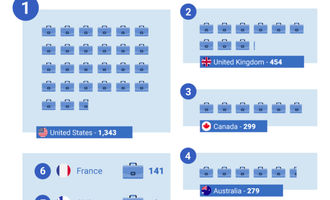 Coming in first place with an impressive 1,343 B-Corp businesses, the USA is leading the charge to sustainability in business. The USA has just shy of three times the amount of B-Corp businesses that the next country does. 193 of these businesses are in the food and drink industry, which is the highest of any industry across the country.  
In second place with 454 B-Corp businesses, the UK is a long way behind the US but still ahead of the pack. As with the USA, the UK loves its food, making the industry with the most B-Corp businesses in the UK the food and drink industry with 78 businesses.  
Canada has a decent 299 B-Corp businesses, though this is more than four times less than the USA. And like the USA, and the UK, the food and drink industry is leading the way in Canada with 47 businesses listed as B-Corp.  
Australia follows on Canada's heels with 279 B-Corp businesses. Unlike Canada, the UK and the USA, the leading industry in Australia for B-Corp businesses is Marketing and Communications Services, of which there are 27.  
Rounding out our top five, Brazil has a healthy 174 B-Corp businesses to their name and much like our top three, the industry with the most B-Corps is food and drink with 15.  
Just missing out of the top five, France comes in sixth place. It has 141 B-Corp businesses. Appearing for the first time on our list is the IT Software and Services industry, which accounts for 18 of the B-Corp businesses in France.  
Coming just 10 businesses behind France, Chile has 131 B-Corp businesses. The South American country boasts 14 companies listed as B-corps in Education and Training Services, which includes business and secretarial schools, exam tutoring and further instruction. 
In eighth place is Italy, and it should come as no surprise that the industry with the most B-Corp businesses in the homeland of pasta and pizza is food and drink with 15. Italy falls a little way behind Chile with 119 B-Corp businesses total.  
Close on Italy's heels, Argentina comes in ninth place with 112 B-Corp businesses. In Argentina, home and personal care is the top industry for  B-Corp businesses with 11.  
Rounding out our top 10 is The Netherlands with 108 B-Corp businesses. Management and financial consulting is their top industry with B-Corp businesses, as it has a healthy 16.  
Industries Top 10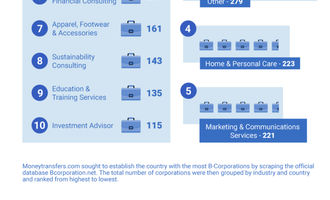 Unsurprisingly, given that four of our top five countries have this as their top industry for B-Corp businesses, Food and Drink has the most out of all the countries we looked at. The industry has a whopping 495 businesses with B-Corp certification.  
2. IT software and services/ web design 
It may come as a surprise to some that IT software and services lands in second place in our list. IT Software and services didn't appear in the top five countries for B-Corp businesses, coming just short in sixth place with France, and seventh with Chile. It also might not be exactly what comes to mind when thinking of sustainability. But nevertheless, it's an industry with 293 B-Corp businesses around the world.  
Encompassing all businesses and industries that aren't included in the BIA's comprehensive list, such as the funeral industry in the UK, and the beekeeping equipment industry in Australia, the "other" category lands well in third place with 279 businesses.  
4. Home and Personal Care 
How we care for our homes and ourselves is unique to all of us, but with more people considering the impact their actions take on the world, companies are having to adapt to keep them happy. 223 home and personal care businesses have heeded the call of their consumers and demonstrated their sustainability for the world to see.  
5. Marketing and Communications Services  
Marketing and Communications ranked highly in Australia, being their biggest industry with B-Corp businesses, but it also charts well globally. Coming fifth overall, marketing and communications has just two fewer than home and personal care with 221. 
6. Management and Financial Consulting  
Missing out on top five status by just six businesses, management and financial consulting lands in sixth position with a healthy 215 B-Corp Businesses.  
7. Apparel, Footwear and Accessories  
As consumers, what we wear shows the world part of who we are as people. 161 apparel, footwear and accessories businesses have heard what consumers want and attained B-Corp certification.  
8. Sustainability Consulting  
It may come as no surprise that businesses dedicated to improving others' sustainability would attain B-Corp status themselves. With just eight businesses fewer than apparel, footwear and accessories, sustainability consulting has 143 B-corp businesses.  
9. Education and Training Services  
Nearing the end of our list, education and training services comes in at ninth place. This industry has a respectable 135 B-Corp businesses.  
Despite not appearing in our countries top 10, and not immediately sounding like an eco-friendly industry, the investment advisor industry comes in 10th place with 115 B-Corp businesses.  
Impact scores 
All businesses that attain B-Corp certification are rated on their company's governance structure as well as the positive impact they have on their workers, community, customers and environment. Each of these criteria are rated out of 100, then combined to give each country their final rating out of a total possible 500. Businesses are required to get a minimum score of 80 to qualify for B-Corp certification.  
Taking a look at the top five countries in terms of impact score, in first place is Mexico with 99.55. Canada comes in second with 96.56, followed by the USA with 95. Germany follows shortly behind with 94.97 and our top five is rounded out by Peru which scores 93.5. 
While these scores at first appear far removed from the 500 points they could have, the number of businesses striving to attain B-Corp certification at all is where the true benefit lies. To paraphrase Anne-Marie Bonnaeu, we don't need a few companies being perfectly sustainable, we need millions being sustainable imperfectly.  
Methodology: 
2. To do so, Moneytransfers.com scraped the official database Bcorporation.net to collate the total number of B-corporations per country around the world. 
3. The total sum of corporations per country were then grouped by Industry. 
4. The countries and industries, respectively, were then ranked from highest to lowest. 
5. Additionally, the B Impact Report pages, for the corporations in the top 20 countries, were scraped to collate their B Impact scores. 
6. This score is given by Bcorporation.net via an assessment (BIA) of the positive impact of a business upon its workers, customers, environment and so on.  
7. The impact scores of the B-corporations in the top 20 countries were averaged for an overall score for the country.  
Data was collected on November 18th, 2021, and is correct as of then, but is subject to change. 
MoneyTransfers News Desk
Money transfers, foreign exchange, remittance and currency research and insights from our newsdesk team.