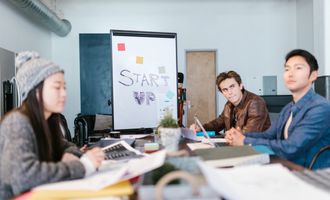 Poland has more 'unicorn' start-ups than Netherlands and Switzerland combined

MoneyTransfers News Desk
Europe has gained a bad reputation for its start-up culture over the last few decades. 
In some ways that has been deserved. As the US and Asia have produced innovative, globally-recognised, billion- and even trillion-dollar companies, Europe has lagged behind, producing far fewer "unicorns" – private startups valued at more than $1 billion. 
But that is changing. This year, McKinsey has reported "European start-ups are being created and growing at an unprecedented pace," and showing that "launching a start-up amid the continent's fragmented value pool doesn't necessarily have to be such a challenging proposition." 
According to Crunchbase, "the funding pace for European startups has also accelerated." 
And consultancy EY points out that "Europe has the most unicorn cities … which is a good indicator of the diversity of the start-up ecosystem" across the region. 
Among many, new entrants to the scene include Swedish lithium ion battery company Northvolt, Dutch cloud communications company MessageBird, and UK payments firm Primer. 
Mixed bag 
Persistent obstacles include regulation, attracting the right talent, a lack of a unified market with one language and business culture, challenges streamlining marketing across the continent, and difficulty attracting large funding rounds due to less late-stage capital. 
A recent Politico report observed that Brussels can be overly fixated on creating European challengers to the US giants like Google and Facebook, which may prove an impossible task, rather than fostering new innovations. 
Still, EU startups got more in venture capital funding – €49 billion – than Asia or the US in the first half of 2021. 
Increase in the East
London, Paris and Berlin host the majority of European startups. 
But also look to central and eastern Europe (CEE), where news site Sifted recently said startups are "raking in the money", and entrepreneur Alexander Chachava has argued in TechCrunch promising businesses remain "overlooked and undervalued". 
Joanna Nagadowska, CoActive Coach at Venture Capital Partnerships Google, wrote in a recent report: "Companies founded in CEE now have a combined enterprise value of over €186 billion, up 19 times since 2010. VC investment soared to €4.0 billion in the first nine months of 2021, projected €5.4 billion by the end of the year and we have now 34 unicorns born in CEE."
Pole vault 
In fact, with 10 unicorns, Poland outranks Hong Kong, Japan or Australia. That's more than Sweden and the Netherlands combined. They include LiveChat, Allegro and InPost. 
"Poland's strong position is built on access to great tech talents," Wojtek Sadowski, CEO and Co-Founder of Packhelp, a Warsaw-based e-commerce delivery business which raised a $45.6 million Series B funding round in November 2021, told MoneyTransfers.com
"According to Dealroom, there are over 400,000 engineers in Poland, twice as many as in Romania. There's good access to domestic seed capital allowing more founders to find their products market fit and later reach out for bigger, foreign investments," Sadowski said. 
"Over the years, we have also built a few significant tech hubs, starting with Warsaw, where Packhelp is located, that now help to grow the whole ecosystem. Lastly, recent successes of Polish startups like DocPlanner or Brainly, prove that Poles know how to scale business to international markets," Sadowski added.
More Information of Interest.
Send Money to Poland
If you are planning to move to Poland for work or study, or maybe just for a fun trip, you may need to consider sending money there in advance. The best option to send money to Poland is by using an online money transfer provider. We created the following table on the top 5 money transfer providers in terms of exchange rates and speed, so you can compare them and choose the best option for you:
Ranking
Provider
Exchange Rates & Transfer Speed
Get Started
🥇
Wise
Exchange rates: 0 – 0.5%
Speed: 1 – 2 days
Visit Wise
🥈
Xe
Exchange rates: 0.4 – 1.2%
Speed: 1 – 4 days
Visit Xe
🥉
Instarem
Exchange rates: 0 – 0.5%
Speed: 0 – 5 days
Visit Instarem
#4
WorldRemit
Exchange rates: 0.5 – 1.25%
Speed: 2 – 3 days
Visit WorldRemit
#5
TorFX
Exchange rates: 1 – 3%
Speed: 1 – 3 days
Visit TorFX
MoneyTransfers News Desk
Money transfers, foreign exchange, remittance and currency research and insights from our newsdesk team.