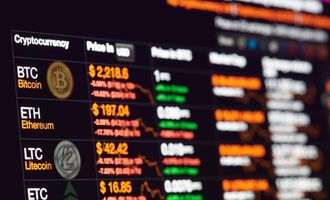 Cryptocurrencies retreat as monetary policy concerns remain

Crispus Nyaga
Cryptocurrencies have had a difficult start of the year as concerns about higher interest rates. Bitcoin, the biggest cryptocurrency in the world even dropped below $40,000 this week. In total, according to CoinGecko, all cryptocurrencies have a market capitalization of over $2.17 trillion, which was significantly lower than last year's high of more than $3 trillion.
Monetary policy concerns
Cryptocurrencies are considered high-risk assets because of their inadequate intrinsic value and the fact that their prices are highly volatile. 
As a result, their prices tend to do well in a period of easy money policies, especially by the Federal Reserve. This explains why most cryptocurrencies soared during the pandemic.
Now, there are concerns that the monetary policy is changing as the global economy recovers. In the United States, the Federal Reserve has already hinted that it will implement about 3 to four rate hikes this year.
Similarly, in the United Kingdom, the Bank of England (BOE) has already hiked interest rates by 25 basis points. And analysts expect that the bank will implement about three rate hikes this year. The same trend is happening in other countries like Canada and New Zealand.
Adoption growing 
Still, while cryptocurrency prices have lagged recently, there are signs that adoption is improving around the world. For example, the Dogecoin price jumped by over 20% on Friday after Tesla started accepting the currency. It is accepting it only in its accessories business.
Similarly, the number of venture capitalists moving into the industry is growing. For example, on Friday, FTX announced the creation of a new venture fund valued at about $2 billion. In November last year, Matt Zhang, an ex-Goldman Sachs analyst launched a $1.5 billion venture fund.
Other companies that have announced cryptocurrency initiatives are Block and Meta Platforms. VC firms like Softbank's Vision Fund, Andreessen Horowitz, and Sequoia have also launched their VC funds.
Crispus Nyaga
Crispus is a financial analyst with over 9 years in the industry. He covers the stock market, forex, equities, and commodities for some of the leading brands. He is also a passionate trader who operates his family account. Crispus lives in Nairobi with his wife and son.