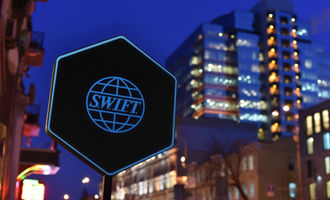 EU seeks to block Russia's biggest banks from accessing SWIFT

Crispus Nyaga
Russia is set to get more isolated as the European Union nears a decision on whether to block VTB and Bank Rosiya from the SWIFT network.
SWIFT ban
Last week, the European Union, UK, and the United States agreed to block a number of Russian banks from the SWIFT messaging platform. The countries also decided to place limits on the Bank of Russia reserves stored in their countries.
These actions have not deterred the Russian invasion of Ukraine. Instead, the Vladimir Putin administration has become more emboldened as its armed officials near Kyiv and other major cities. 
Therefore, European governments are discussing adding the biggest seven banks in Russia from the SWIFT ban list. The seven banks are VTBand Bank Rossiya, which are among the largest firms in the country. Other banks to be added to the list are Bank Otkritie, Novikombank, Promsvyazbank, Sovcombank, and VEB.RF. 
In addition to these measures, assets of leading Russian banks have been frozen by the United States. Other countries have also announced measures to limit trade with Russia. For example, Singapore imposed banking and trade restrictions while South Korea banned exports of sensitive items to Russia.
Russia banking sector at risk
These decisions have put the Russian banking system at risk. According to media reports, there have been long queues in banks and ATMs as people withdraw their cash in dollars. Worse, western countries have imposed sanctions on the Russian central bank, making it impossible for the bank to access foreign currency. 
On Monday, the Bank of Russia governor raised interest rates to 30% in a bid to make savings more attractive. She also warned about a looming banking crisis in the country.
Crispus Nyaga
Crispus is a financial analyst with over 9 years in the industry. He covers the stock market, forex, equities, and commodities for some of the leading brands. He is also a passionate trader who operates his family account. Crispus lives in Nairobi with his wife and son.