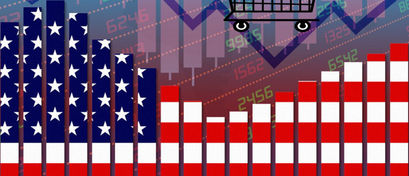 US March 2022 Inflation touches a new 40-year high of 7.9%

Elizabeth Kerr
Americans are grappling with the nation's worst 12-month inflation in 40 years. MoneyTransfers.com analysis shows that the nation's inflation rate for February 2022 was 7.9%. That's the highest it has been since January 1982. Then the nation had recorded an inflation rate of 8.4% off of a ravaging recession.
The recent figure keeps with market expectations. That's because the FED had anticipated higher rates at the year's turn. MoneyTransfers's analysis indicates that rising energy prices played a significant role in the metric. Market data shows that Energy prices grew by almost 26% in the month, with gasoline alone recording a 38% increase compared to 40% in January.
Where are Americans feeling the most pinch?
Significant price gains in food, housing, and motor vehicles have also contributed to the high inflation rate. For instance, housing costs shot up by 4.7% compared to 4.4% in January. Likewise, Americans had to dig deeper for foodstuffs. Their prices shot up by 7.9%, a 0.9% from January estimates. Again, the gains in food costs are the biggest the country has recorded since July 1981.
Other areas that also recorded significant price movements are transportation and clothing. The data shows that Americans had to pay 12.4% more for new vehicles. Similarly, they had to part with an extra 41% for used cars and trucks. Overally, the country's month on month CPI grew by a seasonal adjustment of 0.8%
The past year has witnessed elevated inflation due to strong consumer demand for goods due to supply chain bottlenecks occasioned by the Covid 19 crisis. That has been exacerbated by a tight labor market pushing wages higher. Consequently, there are more job openings than businesses can fill, leaving them grappling with consumer demands.
How does the Russian-Ukraine conflict impact U.S inflation?
Analysts warn that the worst is yet to come too. They hold that the U.S is yet to experience the effects of the Russia-Ukraine conflict. That war will affect energy costs further following the U.S's sanctions on Russian oil imports.
Economists, including Joel Naroff of Naroff Economics LLC, have been speaking about the effects of the Ukrainian crisis. He holds that the containment of coronavirus would have entangled the global supply chain. That is, however, now in doubt following the happenings in Ukraine.
Fears of rising inflation
Well before the crisis, economists had been projecting a rise in YOY inflation by spring of 2022. That would have arisen from the recovery of supply chains from the pandemic-induced disruptions. Russia's invasion of her neighbor Ukraine has worsened the situation threatening to prolong the inflationary environment.
Russia is a critical supplier of oil and gas globally. It's also a significant supplier of essential metals for motor vehicle and airplane manufacture. Again, the country plays a leading role in the supply of fertilizers, a central component of food production. 
The West has been ramping up sanctions on the country to push its exit from Ukraine. Cutting it off from the global markets will have ripple effects on world economies, including the U.S. In his last presentation to the senate banking committee, the U.S's Fed chair Jerome Powell has alluded to that much.
Elizabeth Kerr
Elizabeth is a financial content specialist from Manchester. Her specialities include cryptocurrency, data analysis and financial regulation.