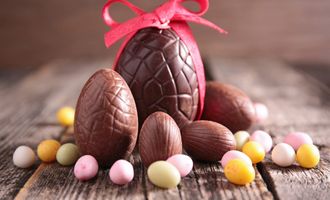 Hopping mad: Inflation hits Easter eggs

MoneyTransfers News Desk
Consumers around the UK are feeling the pinch from rising inflation, with the Consumer Price Index (CPI) rising by 6.2% in the 12 months to March 2022.
Food prices have been a particular pain point, increasing at their fastest rate since 2011. 
So how is that impacting that most cherished of springtime snacks – the Easter egg?
MoneyTransfers.com looked at 5 popular products: the Cadbury Mini Eggs Medium Egg, Cadbury Heroes Large Egg, Galaxy Minstrels Large Egg, Ferrero Rocher Egg and Lindt Large Golden Bunny Egg. We compared the 2020 average price per 100g of choc from the major supermarkets, with their current online value. 
Inflation was indeed hitting – and particularly at the deluxe end. 
While the Mini Eggs Egg had only gone up by 3p (a 3.4% increase) per 100g on average, and the Heroes Egg was up by 6p (4.1%), the luxurious Ferrero Rocher Egg was up by 27p.
And as for that lovely Lindt Large Golden Bunny Egg – it was up by £1.26, a whopping 68% (no, there's no decimal point there) increase. 
"It is treats like Easter eggs that people may find themselves cutting back on or making price-conscious swaps on when navigating a world of higher shopping bills and energy costs this spring," said Jonathan Merry, CEO of MoneyTransfers.com. 
"There are certainly still value options out there, so it will be supermarket chains that can offer the best deals on these kinds of items that will have a successful season." 
MoneyTransfers News Desk
Money transfers, foreign exchange, remittance and currency research and insights from our newsdesk team.