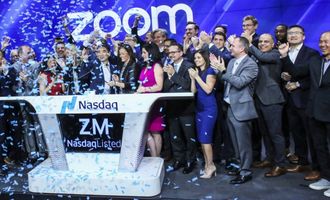 Zoom stock falls 84% from 2020 highs

Elizabeth Kerr
The onset of COVID-19 altered the way we communicate. Its spread made in-person meetings untenable, necessitating the use of virtual meeting solutions. By mid-2020, there was a proliferation of video conferencing platforms all jostling for market share. One of these, Zoom, was an instant hit. It attracted millions of downloads worldwide as remote working and learning took over.
The application was so popular that it recorded 485M downloads in 2020, a 30-fold gain from 2019. Its popularity coincided with an upswing in its share price, peaking at $559 in October 2020. Fast forward to today, and the situation has eased somewhat; and Zoom's share price has tumbled to $84.69, an 83.7% decline according to a MoneyTransfers.com analysis.
"The decline of Zoom's share price has been nothing short of spectacular, but not unexpected at all," says MoneyTransfers' CEO, Jonathan Merry. He adds, "The market got crowded, directing some significant interest to alternative apps. That was bound to impact its market performance. But the most critical contributor to the decline has been a resumption of pre-pandemic lifestyles. Most countries have allowed in-person meetings and learning, relegating virtual meetings to the back burner."
Microsoft and Google are eating into Zoom's share
Zoom has been ceding ground to Microsoft and Google. Microsoft particularly has made a dent in the former's market share through its Teams platform. By July 2020, Teams was reporting 250 million monthly users, up from 10M in 2019.
Teams owe its growth to Microsoft merging its video conferencing unit with Microsoft 365 applications. That move created one product with broad functionality, unlike Zoom. Microsoft's CEO Satya Nadella has described Teams as the only solution for securely merging calls, meetings, chat, business process workflow, and content collaboration.
Attracting a sustainable client base
Teams' focus is also giving it an advantage over Zoom. Whereas the former targets organizations only, the latter serves both individuals and businesses. Microsoft's focus on organizations gives it a more sustainable client base. Its setup enables it to attract online firms seeking unified platforms for meetings and systems.
That said, Zoom remains a formidable player within the videoconferencing sphere. It has a healthy balance sheet and robust revenue stream. All that thanks to it cashing in on the business opportunity that the scourge provided.
What does the future hold for the videoconferencing sector?
Organizations in the digital field are adopting either work from home setup or a hybrid one. As such, virtual conferencing software will remain crucial for such organizations. Research indicates that many of them are looking to increase their budgets in the area. 
Zoom and other such services will register dips in users as the world contains the pandemic. However, one sure thing is that their usage won't go lower than pre-pandemic levels.  One survey targeting 1,428 CIOs and IT leaders from  83 nations shows that 94% expect some of their staff to continue working from home.
Elizabeth Kerr
Elizabeth is a financial content specialist from Manchester. Her specialities include cryptocurrency, data analysis and financial regulation.