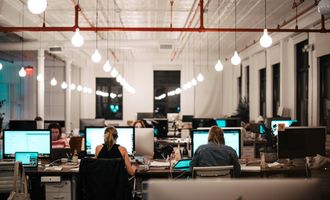 Fascinating Startup Statistics & Facts for 2023

Hristina Nikolovska
Startups are a critical part of the global economy, and their successes significantly contribute to economic, employment, and innovation growth. With that size of potential, however, come great challenges. From raising capital to building a team, one of the most difficult things startups face is to simply stay afloat long enough to make it to the next stage of growth.
Scroll down to the startup statistics below to learn the latest data on startup funding, the challenges they face, rates and reasons for failure (or success!), how they operate, and much more!
10 Key Startup Statistics (Editor's Choice)
There are over 420,000 startups in the United States.

28% of US startups are female-founded.

Startups fail at a rate of over 90%. 

The main reason why startups fail is the lack of financial resources.

Startups with two founders have greater chances of success.

Startups aren't profitable during their first year of operation.

32% of startups opt for acquisition as an exit strategy.

Fintech is the industry with the most startups.

Silicon Valley is valued at $2 trillion as a startup ecosystem.

38% of startups had to change their exit strategies due to COVID-19.
General Data on Startups
The number of startups in the US exceeds 420,000.
The latest available data obtained in 2019 points to these startup firms being responsible for nearly 1.7 million jobs, with the average number of employees standing at four. While businesses that have operated for 10 or more years account for most of the total employment, startups contribute the most toward job growth. 
(BLS)
24% of startups made between $51 million and $100 million in revenue in 2019.
Further 22% earned between $101 million and $500 million, closely followed by the 19% that made anywhere from $10 million to $25 million in revenue. The latest startup stats point to 11% of startups that earned less than $10 million, and a mere 3% that made over $500 million in revenue before the pandemic hit.
(Deloitte)
30% of startups raised between $51 million and $100 million in capital funding.
Raising from $26 million to $50 million and from $1 million to $25 million each applies to 25% of startups. Another 19% of startups raised between $101 million and $1 billion, while only 2% managed to raise over $1 billion in capital funding.
(Deloitte)
28% of startups in the US are founded by women.
The percentage of female startup founders has been steadily increasing by 2% a year between 2017 and 2020. Still, female founders alone are raising much less in VC funding than what they do when they have a male co-founder. The latest data reveals that startups with female-only founders raised $5 billion in VC funding, which compares to the $20 billion raised by startups with women as co-founders alongside men. However, it's worth noting that in 2018, female-only founders managed to raise a whopping $20 billion in VS funding, which was only $5 billion less than what startups with both male and female co-founders raised. 
(Statista)
As agreed by 38% of startups, COVID-19 sales declines were the most prominent reason for their exit strategy changes.
The need to partially close companies ranked second, as agreed by 34%, followed by the market not being able to yield the targeted IPO price and sales staying flat, at 32% each. 
The demand for their products/services not being expected to return was a reason to change the exit strategy for 25% of startups, while 16% agreed to the same due to significant sales increases. 
Business startup statistics further point to the need to completely close companies as the reason to change the exit strategy of 9% of startups, while 5% cited other reasons.
(Deloitte)
Compared to 2017, venture capitalists invested three times more funds in digital health startups in 2020.
The above only makes sense considering telehealth services usage in 2020 increased 38 times from the pre-pandemic baseline. As a result, telehealth startups noted a record deal count of 244 in the same year. Funding for startups offering remote mental health services reached nearly $800 million by Q1 2021. Post lockdown startup trends further point to virtual gyms and fitness, remote work and education, ecommerce, finance, gaming, and food delivery as the areas with the highest growth rates since COVID-19 lockdowns were introduced.
(CB Insights)
California is home to over 1,131 startups.
Bear Claw State's most powerful startup ecosystems are San Francisco and Silicon Valley. San Francisco hosts over 437 startups. Of those, 23.4% of which are founded by women, and have over 928 seed or early-stage funding deals in place.
The number of startups in Silicon Valley exceeds 226, and 21.7% of them are female-funded. With well over 661 seed or early-stage deals in place, Silicon Valley raised $105 billion in capital funding in 2021. The ecosystem is valued at $2 trillion, and the total early-stage founding raised between H2 2019 and 2021 stands at $25 billion. The average time to exit in Silicon Valley as per data between 2017 and 2021 is 7.6 years, much less than the global average of 9.4 years.
(Silicon Valley Indicators, Startup Genome)
Stats on Startup Success and Failure
The global startup failure rate is over 90%.
The latest available data obtained in 2019 reveals that, on a global level, only one out of 12 startups succeeds. Figures for the United States, however, range between 50% and a little under 80%, depending on the year of launch and years of operation.
(Startup Genome, BLS)
Close to 80% of startups in the US survive their first year.
When observing the average data on startup establishments and their survival rates between 2016 and 2020, 79.6% of new ventures in the United States make it past their first year, with an average of five employees.
While headcount averages increase as startups mature, the startup survival rate seems to be inversely proportional. With an average number of 6.1 employees, 68.9% of new ventures make it past their second year of operation. The survival rate of three-year-old startups stands at 61.3%, averaging a headcount of 6.9 employees. About 55% of startups make it past their fourth year, with an average of 7.5 employees. Averaging a headcount of 7.9 employees, 50.3% of new ventures survive past the five-year mark.
(BLS)
Lack of financial resources is the main reason why startups fail.
Startup success rate data reveals that 38% of startups fail due to running out of cash and/or failing to raise new capital, while the lack of market need ranks as the second reason with 35% of startups failing because of it. Getting outcompeted and a flawed business model follow, being accountable for the failure of 20% and 19% of startups, respectively. 
Other reasons contributing to startup failure include regulatory/legal challenges (18%), pricing/cost issues (15%), not having the right team (14%), and a mistimed product (10%). The list is rounded with poor products, disagreements among teams and/or investors, pivoting going bad, and burnout/lack of passion, respectively accounting for 8%, 7%, 6%, and 5% of startup failures.
(CB Insights)
The success rate of startups also depends on their founders' experience.
Startup founders that have launched at least one successful business in the past have a 30% chance of success for a new one. The odds for those who have at least one failed business behind them stand at 20%, while founders with no experience in starting businesses have an 18% chance of their startup succeeding.
(Zippia)
Accelerator startups have a 150% higher chance of failure than their non-accelerator counterparts.
Moreover, accelerator startups are most likely to seize operations within the first year after demo day. When observing stats on startup failure rate by stage, VC-funded new establishments (also known as scaleups) have a failure rate of 75%, while the likelihood of unicorns (startups valued over $1 billion) succeeding stands at a mere 0.00006%. 
(Startup Genome, Nano Globals) 
Stats on Startup Financing
The startup burn rate greatly differs based on funding stages.
As expected, different stages of funding mean different financial resources at disposal, so the higher up the funding stage – the higher the burn rate. In that sense, 76% of pre-seed startups spend more than $6,000 a month, 24% exceed the $30,000-mark, and only 5% burn over $60,000 per month. Among seed-round startups, 65% burn over $50,000 per month, 11% do so over $300,000, and only 2% spend over $600,000 monthly. 65% of series A startups spend over $200,000 a month, 30% burn over $1 million, and 6% exceed the $1.8 million mark.
Startup stats reveal that among series B startups, 72% burn more than $300,000 per month, 29% go over the $1.5 million mark, and 14% spend more than $3 million monthly. When it comes to startups who have raised another round of funding between their pre-seed and series A stage, 67% of them spend over $450,000 a month, 33% exceed the $1.53 million mark, and 17% burn more than $2.25 million monthly.
(Brex)
No startup is profitable during the first year of operation.
In fact, only 40% of startups qualify as profitable during their entire lifetime, and it usually takes between three and four years for a startup to start earning profit. On the other hand, startup revenue growth rate data reveals that new ventures are estimated to see revenue increase by 177.98% in their first year. Gradually decreasing over the next few years, the corresponding figures for the second and third years of operation stand at 100% and 71.43%.
(Zippia, Equidam)
Having two founders significantly increases a startup's chances of success.
When compared to those founded by a single person, startups with two founders are more likely to raise 30% more in funding. They're also 19% less likely to scale prematurely and typically note a 300% higher startup growth rate in terms of users.
(SmallBizTrends)
The median amount of equity among startups that offer it stands at 10%.
Startups offering EMI (Enterprise Management Incentive) typically have an equity pool from 7.5% to 10% while transitioning between the seed stage and series A. When it comes to employees, startups with teams of up to a dozen members and before series A funding can afford to offer 1-2% in equity based on the value that the individual brings to the startup or as a way of attracting the right people.
When observing data on startup equity percentage by roles, directors are typically appointed 0.4-1.25%, lead managers or engineers get 0.5-1%, and their senior counterparts get 0.33-0.66%. While managers and juniors are typically given 0.2-0.33%, appointing a CEO can cost as much as 5% in equity.
(Accountancy Cloud)
32% of startups agree they're most likely to pursue acquisition as an exit strategy.
Mergers rank second as agreed by 26% of startups, followed by IPOs that are the exit strategy of choice for 24% of startups. 16% have no plans to exit, while 2% don't know what kind of strategy they would pursue, as startup exit statistics reveal.
(Deloitte)
The higher the capital funding, the more are startups concerned about cyber risk and financial statement fraud.
Respective 35% and 33% of startups with over $101 million in capital funding agree they're significantly concerned about financial statements and cyber risk fraud. Startups in other groups based on capital funding seem to be more concerned about cyber risk as opposed to financial statement fraud.
Among startups with capital funding ranging between $51 million and $100 million, 23% are highly concerned about financial statement fraud, and 31% say the same when it comes to cyber risk fraud.
Startup statistics further point to 14% of new establishments being notably concerned about financial statement fraud, while 9% state the same about cyber risk fraud.
Finally, among startups with capital funding between $1 million and $25 million, 5% are significantly concerned about financial statement fraud, and 8% agree to the same when it comes to cyber risk fraud. 
(Deloitte)
Startup loans mostly range between $9,000 and $20,000.
When it comes to loan amounts, startups can be founded with as little as $500 up to $750,000 during a variety of terms based on personal income and credit score, the type of business, whether the founder has relevant experience, etc. Interest rates for startup business loans range between 10% and 28% but can drop to 7% for qualifying borrowers.
(Lendio)
Startup FAQs
How much do startups sell for?
How long do startups last?
What percent of startups fail?
How many startups fail in the first year?
What industry has the most startups?
Conclusion
Consistently contributing toward employment, innovation, and the economy, startups continue to be powerful business forces around the world. Even though many of them don't manage to survive long enough to reach their full potential, success stories continue to be an inspiration for entrepreneurs around the world. Encouraging more and more of them to take a leap, startups show no signs of slowing down anytime soon!
Sources:
Hristina Nikolovska
An internship in a digital marketing agency during her freshman year of university got Tina into content. A decade later, she's utilizing her educational background in English and knack for research to craft website content on crypto and ensure readers are fully informed. When she's not investigating the crypto market and expanding her knowledge, you'll find her randomly roaming cities and sunny coasts all over the world.