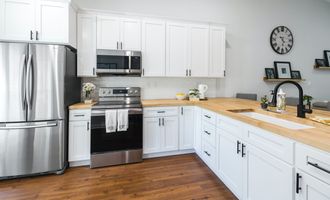 Top 8 Cheapest Appliances To Run At Home Each Month

Yasmin Purnell
As families across the country strive to cut down their energy bills amidst the cost of living crisis, MoneyTransfers.com has taken a look at 8 of the cheapest appliances to run at home each month. This follows our most recent data on the most expensive appliances to use around the home.
Hair dryers take the top spot
We found that hair dryers – assuming an average usage of 5 minutes a day, 4 times a week – were the cheapest appliance to run at just £0.48 per month*. Energy-efficient LED lightbulbs and hair straighteners followed close behind, also costing less than £1.00 per month to run.
Even the most expensive item on the list, a laptop, costs just £2.31 per month to run assuming it's plugged in for five hours a day. 
Energy efficient cooking
The humble microwave is no stranger to Brits – latest figures released in 2018 showed 93% of households were in possession of one, and that number is only likely to have increased. Costing just £1.51 to run per month, microwaves are far more energy efficient than using an oven.
Data from uSwitch suggests that an oven will cost around 18p per hour to run, with microwaves costing a little more than that – but crucially, microwave ovens are rarely used for more than over five minutes at a time to heat a meal, therefore using far less energy in the long run. Homeowners looking to cut down on energy bills each month might consider using their microwave to steam vegetables and re-heat leftovers rather than the oven.
Cutting down energy bills
Some may be pleased to find that much-loved appliances such as toasters and lawn mowers actually don't consume as much energy on a monthly basis as you might expect. For those looking to cut down on your energy bills, putting your focus into more expensive appliances such as fridge freezers, dishwashers, and tumble dryers is a better option. Energy Savings Trust advises homeowners to look for appliance's energy label – those rated A will be the most energy efficient, while appliances rated G are considered the least energy efficient (and therefore the most expensive to run).
"Our research shows that the appliances used infrequently throughout the week are always going to consume less energy and therefore cost less to run on a monthly basis, such as lawn mowers and vacumm cleaners. With the cost of living crisis affecting so many families across the UK, is it likely that we'll see an increased trend to use those energy vampires, such as washing machines and dishwashers, on an increasingly infrequent basis?
For many, getting bills down is a key concern right now as inflation hits all-time highs – so this data may give some peace of mind that not every appliance you own is draining the energy from your home."
Cost of Running Appliances at Home
| Appliance | kwH per month | Cost per Month | Cost per Year |
| --- | --- | --- | --- |
| Hair dryer (5 minutes per day, 4 times a week) | 1.7 | £0.48 | £5.76 |
| LED Light Bulb (4 hours/ day | 1.8 | £0.50 | £6.00 |
| Hair Straighteners (5 minute per day, 4 times a week) | 2.46 | £0.69 | £8.28 |
| Toaster (1 hr per week) | 3.9 | £1.10 | £13.20 |
| Lawn Mower (1 hr per week) | 4.3 | £1.22 | £14.64 |
| Microwave (10 minutes per day) | 5.4 | £1.51 | £18.12 |
| Vacuum Cleaner (assuming 1 hour a week) | 6.08 | £1.70 | £20.40 |
| Laptops (5 hours a day) | 7.6 | £2.31 | £27.72 |
*Costs assume current energy prices of £0.28 per kWh as of April 2022.
Yasmin Purnell
Yasmin Purnell is a Content Writer and Editor for Moneytransfers.com. Yasmin has a wealth of experience writing across a range of topics within the personal finance, student, and business niche. Yasmin joined the team with the one main mission to provide accessible financial, career and business information and advice for all.