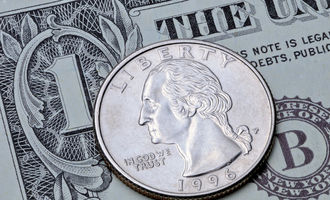 US dollar gathers momentum as inflation surges to 1981 highs

Crispus Nyaga
The US dollar surged to the highest point since May 19th after the latest consumer inflation data from the United States. The dollar index, which tracks the currency against other currencies, rose to $103.72, which was about 2.4% above the lowest level in May.
US consumer inflation surges
Consumer inflation is not easing according to the latest data by the Bureau of Labor Statistics. Data showed that the overall consumer price index jumped to 8.6% in May. This was the highest it has been since December 1981.
Excluding the volatile food and energy prices, inflation fell from 6.2% to 6.0%. This was also the highest it has been in decades.
The cost of most items in the US has risen. For example, the average price of gasoline jumped to an all-time high of $4.97. Analysts believe that this price will soar to $5 in the coming days. Also, gas prices have risen
The cost of food and other services has also jumped. As a result, the Federal Reserve has started tightening its monetary policy in a bid to fight inflation.
The Fed has already hiked interest rates by 0.75% this year and analysts believe that it will deliver several 0.50% hikes this year. It has also started scaling down its large balance sheet.
Impact on money transfers
The money transfer industry has not seen elevated inflation because of the relatively high inflation in the industry. Indeed, some like Wise have actually slashed their money transfer fees in the past few months.
Still, the strengthening dollar has a direct impact on money transfers. For one, as inflation rises, many people will scale down the amount they send to their loved ones. 
At the same time, it is affecting the amount of money that people receive. For example, if you send $1,000 to a person in Japan in January, they would have received 116,000 yen. Today, they would receive 133,000 yen. 
While this is a higher amount in Japanese terms, their purchasing value has dropped since the country imports most of its items.
Best money transfer providers
Ranking
Provider
Exchange Rates & Transfer Speed
Get Started
🥇
Wise
Exchange rates: 0 – 0.5%
Speed: 1 – 2 days
Visit Wise
🥈
Xe
Exchange rates: 0.4 – 1.2%
Speed: 1 – 4 days
Visit Xe
🥉
Instarem
Exchange rates: 0 – 0.5%
Speed: 0 – 5 days
Visit Instarem
#4
WorldRemit
Exchange rates: 0.5 – 1.25%
Speed: 2 – 3 days
Visit WorldRemit
#5
TorFX
Exchange rates: 1 – 3%
Speed: 1 – 3 days
Visit TorFX
Crispus Nyaga
Crispus is a financial analyst with over 9 years in the industry. He covers the stock market, forex, equities, and commodities for some of the leading brands. He is also a passionate trader who operates his family account. Crispus lives in Nairobi with his wife and son.