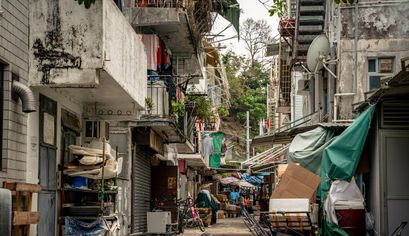 Hong Kong Is World's Least Affordable Housing Market in the World in 2022

Elizabeth Kerr
Home to 7.5 million people, Hong Kong city has always been a land of opportunity, but lately, it's been besieged by challenges. Years ago, the city was beset by violent protests, foreign interference, and the recent COVID-19 pandemic that swept through the metropolis like wildfire.
And while the immediate task is to control this pandemic, the more massive challenge is to provide affordable housing for young people and low-income brackets.
According to a MoneyTransfers analysis, Hong Kong is the least affordable place globally. The city has a median multiple of 23.2, topping the global list of most expensive housing markets for 12 consecutive years.
MoneyTransfer's CEO Jonathan Merry says, "The average housing affordability in 2022 is languishing, with a five times increase in markets with median multiples of 10 or more as just a decade ago. In addition, more than 200,000 people in Hongkong live in "cage homes" or subdivided flats. These living arrangements contribute to anxiety and depression among residents who don't have enough space or privacy."
Hong Kong Losing Step
The global pandemic has worsened the housing affordability crisis in many countries. However, that's not the only reason people have trouble buying a home. It's also because it's been increasingly difficult for middle-class families to purchase a home over the last few years. As a result, the number of housing markets deemed "severely unaffordable" worldwide increased by 60% compared to 2019 (before the pandemic).
According to market analysts, it would take an ordinary family nearly 21 years to buy a home in Hong Kong, which doesn't even consider spending on daily necessities. 
Hongkong was followed by Sydney at 15.3, Vancouver at 13.3, San Jose at 12.6, and Melbourne at 12.1 as the most unaffordable markets in the world. Pittsburgh (2.7) is the most affordable market, followed by Oklahoma City and Rochester (3.3), with Edmonton and St Louis rounding out the top five at 3.6.
Will Hong Kong Fix Its Housing Crisis
While Hong Kong has a serious housing problem, the country has abundant land and very little residential zoning, with only 7% of zoned land dedicated to residential housing. In comparison, 75% of New York City is zoned for residential purposes.
For years, officials in Hong Kong have agreed that the city's housing problem can be solved only by increasing the supply. Yet the shortage persists. In 2021, the central government made a rare public statement on the issue, with Vice Premier Han Zheng acknowledging the urgency of solving the problem during an annual gathering of national legislators in Beijing.
Hong Kong's former security chief, John Lee has been sworn in as the city's new chief executive promises to bring better resolutions. He has pledged that housing will be a major focus of his administration and has presented ideas of increasing the supply.
Elizabeth Kerr
Elizabeth is a financial content specialist from Manchester. Her specialities include cryptocurrency, data analysis and financial regulation.