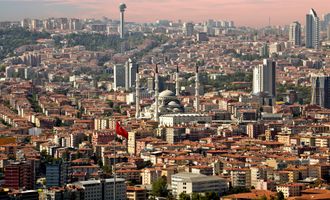 USD/TRY Nears All-Time High as the Lira Crash Gains Steam

Crispus Nyaga
The USD to TRY pair is hovering near its all-time high as the Turkish lira continued its crash. The pair is trading at 17.32, which is slightly below its all-time high of 18.33. Lira has fallen by more than 70% in 2022.
Turkish lira crash
The Turkish lira has been one of the worst performing currencies in 2022. The currency has dropped by more than 70% against the US dollar, euro, and British pound. Notably, the currency has fallen by more than 400% in the past five years.
The Turkish lira has collapsed mostly because of the actions of the Turkish president and the Central Bank. Historically, Erdogan has been opposed to high interest rates even when they are highly necessary. 
Therefore, he has worked hard to influence the bank's actions. He first did that by removing the bank's independence. Today, Erdogan can easily fire and hire the bank's officials. As a result, he has used these unique powers well in the past. For example, in 2021, he fired several central bank officials for defying his calls for lower rates.
The current central bank governor made a series of rate cuts in 2021. At the time, he slashed rates from 20% to 14% even as inflation surged. Historically, central banks do the opposite when inflation is rising. This explains why most central banks have hiked rates this year.
Therefore, the implication of the these actions have been a surge of inflation in Turkey. Data published this month showed that consumer inflation surged to over 78% in June. That's because Turkey is now paying more money to import products like crude oil and natural gas.
At the same time, the Federal Reserve has continued to hike interest rates. The bank has hiked rates by 150 basis points and hinted that it will continue hiking in 2022.
Implications for the Turkish lira crash
The USD to TRY exchange rate surge has had major implications. For one, people in Turkey are now paying much more for their imports since 1 US dollar is now worth 17 liras. 
At the same time, Turkish savers have seen their wealth disappear to inflation. For example, a Turkish saver who had 100,000 liras in 2019 when the exchange rate was at $5 had about $20,000. Today, the same person has just $5,600. 
Meanwhile, people in Turkey sending money abroad are now having to pay more because of the exchange rate. Sadly, analysts believe that the situation will worsen until the CBRT changes its tone on interest rates.
Crispus Nyaga
Crispus is a financial analyst with over 9 years in the industry. He covers the stock market, forex, equities, and commodities for some of the leading brands. He is also a passionate trader who operates his family account. Crispus lives in Nairobi with his wife and son.