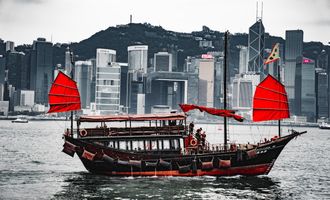 Hong Kong Dollar to Lose Peg? - No Way Says HKMA
HK finance Chief Paul Chan dismissed rumors that the city will allow the Hong Kong Dollar to lose its US Dollar peg, saying it will "absolutely not" happen.
The peg, in place since 2005, ensures the HK Dollar trades within a range of HK$7.75 to HK$7.85 to US$1. When the rate gets too close to either end of the range, the Hong Kong Monetary Authority (HKMA) intervenes, either buying or selling dollars.
Rising tensions between the US and China have caused the Hong Kong Dollar to weaken considerably. Subsequently, the USD/HKD rate has spent the last two months at the top end of the trading range. As a result, the HKMA has intervened several times since May, causing speculation the peg may soon fall.
On Sunday HK's financial Secretary Paul Chan took to his blog to address concerns:
Hong Kong's huge foreign exchange reserve of over US$440 billion, which is equivalent to about 1.7 times the monetary base of the Hong Kong dollar, ample liquidity in the financial and banking system, stable banking operations and high-quality assets — all of these are solid foundations for maintaining the linked exchange rate system,
Speaking to the South China Post, Chan revealed the HLMA has spent HK$170 billion defending the peg. When asked if the HKMA will review the system, he responded, "No. Absolutely not. The outflow of capital is mainly because of carry trades".
Hong Kong Economy Shrinks 4%
Chan told reporters he expects the next set of export data to be disappointing due to weak global demand. HK's economy shrank by 4% year-on-year in the first quarter. He went on to say that the Q2 GDP data released next month will also be far from satisfactory. Chan wrapped up the interview urging the people of Hong Kong to adopt prudent spending habits as higher interest rates will soon start to affect their finances.
HK Dollar Peg in Action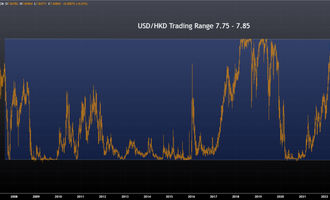 Elliot Laybourne
Elliott is a former investment banker with a 20 year career in the city of London. During this time he held senior roles at ABN Amro, Societe Generale, Marex Financial and Natixis bank, specialising in commodity derivatives and options market-making. During this time, Elliott's client list included Goldman Sachs, JP Morgan, Credit Suisse, Schroders Asset Management, and the Pennsylvania State Public School Employees Retirement System, amongst others. Today, he splits his time between Thailand and Dubai, from where he provides trading consultancy and business development services for family office and brokerage clientele.