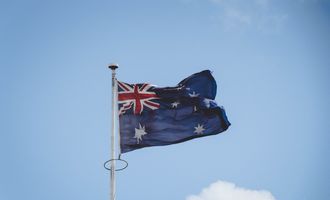 AUD/NZD: Kiwi Snaps Three-Day Losing Streak
AUD/NZD closed lower for the first time this week on Thursday as the Kiwi bounced back from a four-year low against the Australian Dollar.
The pair is slightly higher at 1.1043 (+0.12%) in early Asian trading on Friday. However, this morning's moderate strength is yet to recover yesterday's 0.5% decline.
On Thursday, the Aussie Dollar reached 1.1179, the highest level since August 2018, extending its appreciation against the Kiwi to +5% in 2022.
Yesterday's corrective move follows the Australian inflation data, released earlier in the week. The Consumer Price Index (CPI) showed retail prices rose 6.1% in the three months leading up to June, lower than the forecast 6.3 increase. As a result, market expectations of a 75 basis point hike are moving lower.
Next week, the Reserve bank of Australia (RBA) meets to discuss monetary policy. The RBA is expected to lift the official cash rate (OCR) by 50bp to 1.85%. If the bank hikes rates as expected, it will make the third-consecutive policy adjustment. Analyst forecast the central bank to continue tightening throughout 2022 to help bring inflation down to it 2-3% target range.
New Zealand Recession Fears
A recent report from the Bank of New Zealand said it expects the country to enter a recession in 2023. Citing a business survey conducted by Australian and New Zealand Banking Group (ANZ), the BNZ warned of tough times ahead.
BNZ's research department said the survey's results, "fit with our view that the economy is headed into recession."
AUD/NZD Outlook
The weekly price chart shows the rate pulled back from the horizontal resistance level seen around the 2018 highs of 1.1175. This is likely due to traders booking some profits ahead of the long-term resistance.
The relative Strength Index (RSI) is close to overbought on the weekly time-frame, suggesting a period of consolidation is overdue.
Considering how much ground the Aussie has gained, we should expect sideways action to prevail in the immediate future. In this event, the 1.1180 level provides upside resistance. Whereas, buyers should emerge towards 1.1000.
AUD/NZD Price Chart (Weekly)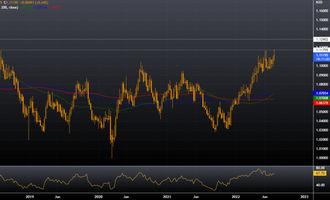 Elliot Laybourne
Elliott is a former investment banker with a 20 year career in the city of London. During this time he held senior roles at ABN Amro, Societe Generale, Marex Financial and Natixis bank, specialising in commodity derivatives and options market-making. During this time, Elliott's client list included Goldman Sachs, JP Morgan, Credit Suisse, Schroders Asset Management, and the Pennsylvania State Public School Employees Retirement System, amongst others. Today, he splits his time between Thailand and Dubai, from where he provides trading consultancy and business development services for family office and brokerage clientele.