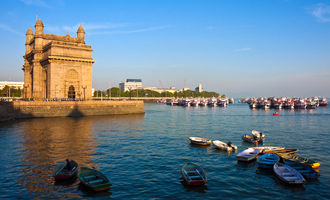 GBP/INR Grapples With Key Technical Level
The GBP/INR trading pair is on track to close lower on Friday, as the cross retreats from the significant resistance of the 100-Day Moving Average (DMA).
The British pound to Indian Rupee exchange rate is last at Rs 96.833, down 0.13% this morning, around 0.5% below yesterday's 6-week high of Rs 97.285.
Despite the weaker start, the Rupee has lost around 3% against the Pound over the last two weeks. However, the currency has appreciated 4.5% against sterling this year.
The driving force behind yesterday's reversal was crude oil's reaction to the US Q2 GDP data. WTI crude closed down -3.00% after the release showed the US economy contracted for the second consecutive quarter.
India is the world's third-largest oil importer, after the US and China. Subsequently, India's economy and currency are sensitive to changes in the oil price. The nation has taken advantage of cheap Russian oil since the start of the Ukraine conflict. However, Russian oil accounts for just 10% of Indian imports. The remaining 90% comes from Dubai and Oman.
Whilst lower crude oil is undoubtedly helping the Rupee rise against the Pound, technical factors are also playing a part.
Pound to Rupee Technical Analysis
Turning to the daily chart, we see GBP/INR is sandwiched between the 50 DMA at Rs 96.072 (green line) and the 100 DMA at 97.058 (blue).
Moving averages are often used by technical trader to form support and resistance levels. As such, a daily close above the 100 DMA could trigger technical buying. In this event, we can expect GBP/INR to push towards the 200 DMA at Rs 98.930.
For now, the price is struggling to clear the 100-Day average. Subsequently, bears may try to push the rate lower towards the support of the 50 DMA at Rs 96.072.
Until either of the above barriers are breached, traders will likely remain on the sidelines. However, we should expect volatility once USD/INR breaks either higher or lower.
GBP/INR Price Chart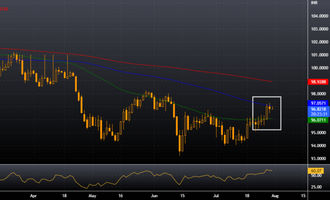 Elliot Laybourne
Elliott is a former investment banker with a 20 year career in the city of London. During this time he held senior roles at ABN Amro, Societe Generale, Marex Financial and Natixis bank, specialising in commodity derivatives and options market-making. During this time, Elliott's client list included Goldman Sachs, JP Morgan, Credit Suisse, Schroders Asset Management, and the Pennsylvania State Public School Employees Retirement System, amongst others. Today, he splits his time between Thailand and Dubai, from where he provides trading consultancy and business development services for family office and brokerage clientele.