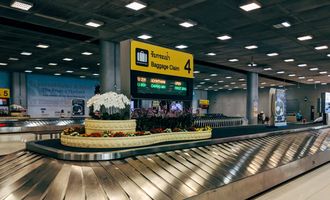 £1.9billion Worth of Baggage Lost in Airports Worldwide

Yasmin Purnell
Following a global lost baggage crisis this summer due to increased numbers of passengers travelling and reduced ground staff, we were left wondering: just how much money is lost to mishandled baggage every year? 
Here, has discovered that there is up to £1.9 billion worth of baggage lost in airports worldwide in one year.*
International passengers more likely to lose bags
International passengers have been especially hit by the lost baggage crisis. The likelihood of your checked bag being mishandled on an international route is about 4.7 times higher than travelling a domestic route.
International flights see mishandled luggage at a rate of 8.7 bags mishandled per 1,000 passengers – almost double the overall rate of 4.35 per thousand. The overall total value of luggage lost or damaged while flying is also likely to be far higher, considering international passengers will typically have more items with them for longer trips.
Global baggage crisis
People have flocked to the airport in droves this summer as COVID-restrictions loosening mean international travel is once again a feasible option for many. What many hoped to be a long-overdue break from normal life, however, has quickly turned into a nightmare, as lost luggage is on the rise.
A report from SITA showed that while air travel is on the rise, with 2.28 billion passengers flying in 2021 and even more predicted to be taking to the skies in 2022, the mishandled baggage rate has also skyrocketed by 24%. In 2021, the rate of mishandled baggage reached an average of 4.35 bags per thousand passengers – an estimated 9.9million bags in total.
Of those bags mishandled, an estimated 6% are completely lost or stolen. Based on research from SNWN, the average holidaymaker's suitcase is worth an average of £3,225. With these figures, MoneyTransfers.com has calculated, therefore, that a total of £1.9billion worth of checked airline luggage was lost at airports in one year, with this figure likely to climb higher as more and more passengers return to air travel post-pandemic.
How much is the average bag worth?
A study showed that the average holidaymaker's bag is worth £3,225. This figure was calculated by taking into account the cost of a suitcase, clothing and underwear, toiletries, sunglasses, straighteners, and other gadgets people will typically take on holiday with them.
As a side note, travel insurance will typically cover lost baggage up to a certain limit – around £1,500. This is certainly something that holidaymakers should take into account when travelling internationally. If you will be flying out with items worth a significant amount, perhaps consider keeping them in your hand luggage or taking out additional insurance to be sure the replacement cost is covered if your bag is lost completely.
Lost baggage crisis 2022
It's unlikely that we'll see the full picture of the lost baggage crisis this year until a few months down the line, but it's clear that the numbers of mishandled and lost baggage at airports is on the rise.
The IATA reported that international travellers were expected to reach 69% of 2019 levels this year, an increase of 42% from 2021 figures. If the mountains of lost baggage and shockingly-long queues from the past few months are anything to go by, airports aren't handling the increase in passenger numbers as well as one might hope.
Jonathan Merry, CEO of MoneyTransfers.com, comments:
"The anticipation of a long overdue holiday after two years of lockdown restrictions has been sharply dashed by huge queues and masses of lost luggage this year.

With airline passenger levels still about half of the number they were pre-pandemic, it remains to be seen whether this year's uptick in lost baggage is merely down to airports re-finding their feet, or a glimpse of more failures to come in the next few years."
*Figure calculated based on the ratio of 4.35 mishandled bags per 1,000 passengers = 9,918,000 mishandled bags per 2.28 billion passengers. 6% of those 9.9million bags mishandled comes to 595,080 bags completely lost per year. This figure multiplied by the average value of a holidaymaker's luggage – £3,225 – comes to a total of £1.9billion worth of luggage lost in 2021 alone.
Yasmin Purnell
Yasmin Purnell is a Content Writer and Editor for Moneytransfers.com. Yasmin has a wealth of experience writing across a range of topics within the personal finance, student, and business niche. Yasmin joined the team with the one main mission to provide accessible financial, career and business information and advice for all.