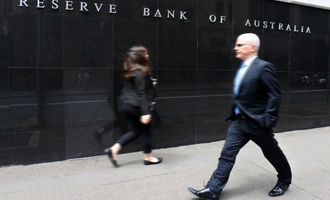 AUD/USD Forecast Ahead of the RBA Rate Decision

Crispus Nyaga
AUDUSD has edged higher in Monday's session; continuing with the rebound that has lasted for over two weeks now. The easing of the US dollar is largely behind the recorded bounceback. Investors are now keen on the RBA interest rate decision for further cues.
RBA's monetary policy
The RBA's interest rate decision scheduled for Tuesday is one of the highly anticipated economic events in the new week. The central bank is expected to be highly aggressive in tightening its monetary policy. This comes amid a decline in consumer spending and a struggling housing market. Subsequently, there has been heightened concerns over an economic slowdown. 
On Tuesday, the Australian central bank is expected to approve an interest rate hike of 50 basis points for the third month in a row to 1.85%. By doing so, they will have increased the rates by 175 basis points since May; its largest increase within a span of six months in 28 years.
RBA is striving to deal with the inflation that is currently more than twice its 2-3% target. This comes as the country's government forecasts inflation to near 8% by the year's end. Granted, it is lower than that recorded by the UK, US, and other major economies. Its CPI was at 6.1% in Q2'22 compared to 5.21% in the previous quarter. 
Notably, the inflationary pressures and subsequent interest rate hikes have weakened consumer sentiment; signaling that household consumption will continue to drop in coming months. Besides, prices of real estate properties has been on a decline since RBA began tightening its policy. Recent data showed that in July, the crucial Sydney market had prices drop by 2.2%, which is the sixth monthly fall. 
AUD/USD forecast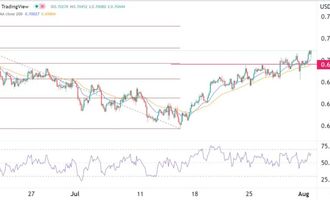 The four-hour chart shows that the AUD/USD price has been in a strong bullish trend in the past few days. The pair rose to a high of 0.7045, which was the highest level since June 17th. It has continued rising above the 25-day and 50-day moving averages and is approaching the 61.8% Fibonacci Retracement level.
Therefore, the outlook for the pair will likely continue rising as buyers target the next key resistance level at 0.7150. 
Crispus Nyaga
Crispus is a financial analyst with over 9 years in the industry. He covers the stock market, forex, equities, and commodities for some of the leading brands. He is also a passionate trader who operates his family account. Crispus lives in Nairobi with his wife and son.