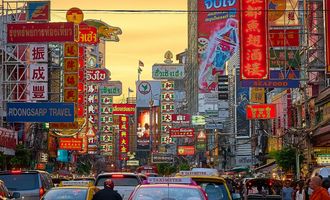 USD/THB: Thai Baht Gains Against the Dollar
The USD/THB exchange rate is on course for its fourth consecutive daily decline, as the Thai baht attempts to recover lost ground against the US Dollar.
The Thai baht is changing hands at 36.27 to the US Dollar in early Asian trading on Monday, extending its four-day winning streak to +1.25%.
The reversal follows a rough period for the baht, with it trading to a 16-year low vs its US counterpart in July.
The US Dollar has been remarkably strong for most of 2022. The US Dollar has emerged as the number-one safe-haven, as investors view the US as the safest place to park their capital.
As a result, many Asian and emerging market currencies have registered multi-year lows in recent weeks. However, the US dollar has come under fire over the last few days following last month's Federal Open Market Committee meeting.
Although the FOMC raised rates 75 basis points into the 2.25 – 2.50% range, the central admitted "recent indicators of spending and production have softened". Fed Chair Jerome Powell speaking to reporters at the post-meeting press conference also stated that future rate hikes will be "data dependent". As such, the disappointing US GDP data released the following day has many questioning whether the fed will soften its hawkish stance.
US GDP fell 0.9% in the second quarter, the second consecutive decline. Typically, economists view two consecutive contractions in GDP as a technical recession.
As a result, the Dollar has come under pressure as traders unwind bullish USD positions.
US Dollar to Thai Baht Outlook
The daily chart shows that despite the recent pull-back, USD/THB remains in a strong uptrend.
The bullish price action sees the pair trading above the 50, 100, and 200_Day Moving averages (DMAs).
However, the near-term technical indicators are showing signs of stress. The Relative Strength Index (RSI) is rolling over and heading into bearish territory. For this reason, we could see USD/THB head lower towards the 50 DMA at 35.47.
Below the 50 DMA, a rising trend line at 35.25 adds to the confluent support. With that in mind, buyers will likely emerge should the baht strengthen further.
USD/THB Price Chart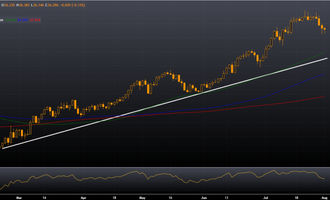 Elliot Laybourne
Elliott is a former investment banker with a 20 year career in the city of London. During this time he held senior roles at ABN Amro, Societe Generale, Marex Financial and Natixis bank, specialising in commodity derivatives and options market-making. During this time, Elliott's client list included Goldman Sachs, JP Morgan, Credit Suisse, Schroders Asset Management, and the Pennsylvania State Public School Employees Retirement System, amongst others. Today, he splits his time between Thailand and Dubai, from where he provides trading consultancy and business development services for family office and brokerage clientele.