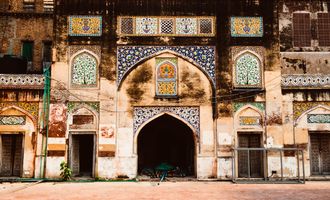 GBP/PKR: Pakistani Rupee Pauses at record Low vs Sterling
GBP/PKR is pulling back from it's highest-recorded level as the Pakistani government attempts to support the free-falling rupee.
The State Bank of Pakistan (SBP) and the Ministry of Finance released a joint statement on August 1, assuring the country is on track to receive a much-needed bailout from the International Monetary Fund (IMF).
The statement said the IMF's reviews were completed and a board meeting is set to discuss the $1.2 billion disbursement.
Fears that Pakistan's economy is on the brink of collapse similar to neighbor Sri Lanka, has caused the national currency to tumble in recent months.
Sri Lanka's economy imploded after the nation defaulted on its debt obligations. As a result, the country descended into chaos causing the prime minister to flee. Subsequently, the debt-crisis could pull surrounding countries into the economic abyss.
With the Pakistani economy under the microscope, GBP/PKR reached a record 294.5 rupees to the British Pound this month. This brings Sterling's gains against the Pakistani rupee to 130% since 2017.
British Pound to Pakistani Rupee Forecast
In the current circumstances it's hard to predict how the rupee will perform going forward. That depends on whether the IMF sign-off the country's bailout request.
Until that time, citizens will continue to abandon the rupee in favor of stronger rivals. With that in mind, the worst may not be over just yet.
By contrast, experts expect the rupee to stabilize when the IMF releases the much-needed funds, "The rupee is trading at much lower levels at the moment and it will bounce back once the International Monetary Fund (IMF) resumes lending and there is political stability in the country," said one banker.
Technical View
The weekly price chart highlights the rupee's decline. The currency fell -17% against the British pound in July, taking the rate parabolic.
Because of the steep rally, a pullback could be violent. For that reason, we expect the Pound to Pakistani rupee exchange rate to remain extremely volatile in the weeks and months ahead.
GBP/PKR Price Chart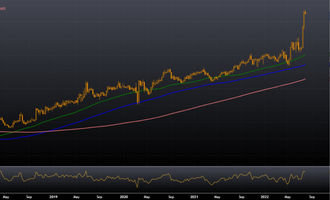 Elliot Laybourne
Elliott is a former investment banker with a 20 year career in the city of London. During this time he held senior roles at ABN Amro, Societe Generale, Marex Financial and Natixis bank, specialising in commodity derivatives and options market-making. During this time, Elliott's client list included Goldman Sachs, JP Morgan, Credit Suisse, Schroders Asset Management, and the Pennsylvania State Public School Employees Retirement System, amongst others. Today, he splits his time between Thailand and Dubai, from where he provides trading consultancy and business development services for family office and brokerage clientele.