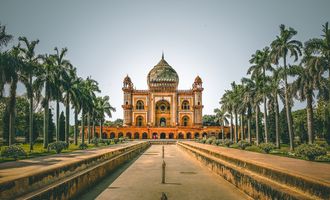 USD/INR Crash Continues Ahead of RBI Interest Rate Decision

Crispus Nyaga
USD/INR recouped the week's losses after plunging to its lowest level in over a month on Tuesday. The focus is now on the Reserve Bank of India (RBI) as it is scheduled to complete its two-day monetary policy meeting on Thursday. Economists expect the central bank to hike interest rates again to 5.25%.
RBI interest rate decision
Investors are keen on the interest rate decision scheduled for release on Thursday by the RBI. The central bank, which commenced its two-day meeting on Wednesday, is expected to continue with its policy tightening efforts with the aim of dealing with the high inflation.
Even so, RBI is not in as much pressure to increase interest rates as is the case with other central banks such as the Federal Reserve. According to Barclays, the country's retail inflation likely dropped to its lowest level in 5 months in July.
This forecast is founded on the government's decision to cut export levies on diesel from 11 rupees to 5 rupees. Notably, it is the second cut since the country's leadership imposed the tariffs in early July. This aspect, coupled with the drop in food prices, signals the peaking of India's inflation rate.
India's July inflation data is set for release on 12th August. Barclays expects a reading of 6.65% YoY compared to 7.01% in June. In April, it hit close to its 8-year high at 7.79%.  
USD/INR technical analysis
On Tuesday, the currency pair extended its losses to the lowest level in about five weeks at 78.14. It has since recouped the session's losses as the market repositions itself for the RBI interest rate decision set for release on Thursday.
As shown on its daily chart, USD/INR is finding resistance along the 25-day EMA at 79.21 while remaining above the 50-day EMA. At its current level, the bulls seek to gather enough momentum to hit the next target at 79.50. This bullish thesis will be invalidated by a pullback below the 50-day EMA at 78.68.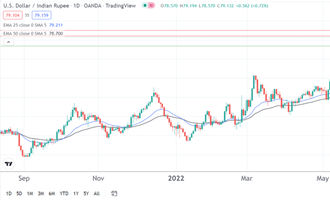 Crispus Nyaga
Crispus is a financial analyst with over 9 years in the industry. He covers the stock market, forex, equities, and commodities for some of the leading brands. He is also a passionate trader who operates his family account. Crispus lives in Nairobi with his wife and son.