USD/THB Stable on Dollar Safe-Haven Flows
The USD/THB exchange rate has seemingly found a floor at 36.00 as the Thai baht's recent strength gives way to a resurgent US dollar.
After a week-long losing-streak, the US dollar in back in vogue. In the last few days the greenback has seen strong demand as rising geopolitical tensions spur safe-haven buying of the buck.
Following Nancy Pelosi's trip to Taiwan on Tuesday, Asian currencies are mostly lower across the board. In response to the visit, China's People's Liberation Army (PLA) began conducting live-fire drills encircling Taiwan, which it lays claim to.
China has also declared the median line separating the nations as no-longer valid. Subsequently, Chinese warships and military aircraft have violated Taiwan's airspace several times in recent days.
The war games, the largest in two decades, are likely to stoke fears of an all-out conflict in the region. As a result, nervous investors could flock to safe-haven currencies like the US dollar and the Swiss Franc.
Thai Baht Performance
The US dollar to Thai baht exchange rate has trended higher all year. At the time of writing the baht is down around 9.3% against the dollar in 2022. Although, USD/THB has pulled back around 2% from the 14-year high of 36.95 recorded in July.
The main driving force behind the rally is the countries different interest rate regimes. Whist the US Federal Reserve Open Market Committee (FOMC) has raised rates aggressively this year to fight inflation, the Bank of Thailand (BOT) is yet to act.
Despite consumer price inflation at multi-year highs, Thailand's benchmark rate stands at 0.5% vs 2.25 – 2.5% in the United States. Although, the Thai central bank is expected to increase rates at this month's meeting, it may not be enough to offset the US dollar strength.
Dollar to Baht Outlook
The daily price chart shows USD/THB is seeing support around the 36.00 mark. Despite last week's strength, the baht remains in a clear downtrend, above the key Daily Moving Averages (DMAs).
For now, the technical indicators suggest the US dollar will continue to strengthen. Therefore, we may soon see a new record US dollar to Thai baht price.
That being said, Foreign exchange markets will remain volatile in the days and weeks ahead. With that in mind, a close below the 50-Day Moving Average at 35.60 (green line) would indicate a trend reversal and Thai baht strength.
USD/THB Price Chart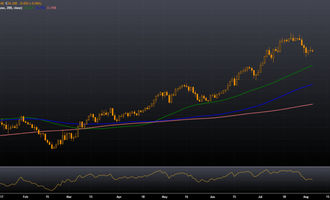 Elliot Laybourne
Elliott is a former investment banker with a 20 year career in the city of London. During this time he held senior roles at ABN Amro, Societe Generale, Marex Financial and Natixis bank, specialising in commodity derivatives and options market-making. During this time, Elliott's client list included Goldman Sachs, JP Morgan, Credit Suisse, Schroders Asset Management, and the Pennsylvania State Public School Employees Retirement System, amongst others. Today, he splits his time between Thailand and Dubai, from where he provides trading consultancy and business development services for family office and brokerage clientele.