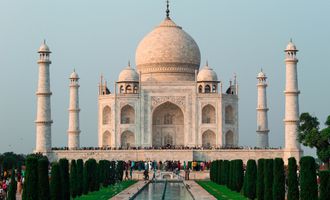 USD/INR Drops Then Pops After CPI
USD/INR suffered its biggest one-day loss in four months on Wednesday as investors dumped dollars following the US Consumer Price Index data.
The US dollar to Indian rupee exchange rate fell 0.64 percent to 79.05 for its worst trading day since April. The dollar weakness comes on the back of yesterday's CPI release, which showed US inflation cooled dramatically in July.
US Inflation Slows
The headline CPI grew 8.5 percent year on year in July, remaining steady from June. Both the annual and monthly numbers were lower than analysts median forecasts. According to a Bloomberg poll, experts predicted 8.7 percent and 0.2 percent increase, respectively.
Risk assets rose on the better-than-expected inflation data, which sent US equities soaring back into a bull market. The US dollar index fell by more than 1 percent due to the risk-on sentiment. As a result of lower inflation, the likelihood of a 75-basis-point rise at the upcoming Federal Open Market Committee (FOMC) meeting is dropping.
Indian Rupee Remittances
According to a Business Standard article released in July, the quantity of money leaving the United States for India is increasing. 
India is far and away the world's largest recipient of remittances, mostly coming from immigrant workers that send money to India to cover family expenses.
Furthermore, due to the strength of the dollar, the United States has surpassed the UAE as the leading remittance sender to India. As a result, a stronger dollar may entice even more wealth to flow east.
USD/INR Outlook
In general, the Indian rupee has underperformed the dollar in 2022. Despite recent relative strength, the rupee has lost about 7 percent of its value against the US dollar so far this year.
The daily chart shows USD/INR is in a long-term bullish trend. However, recently the price action has been much more unpredictable.
After touching a record high of 80.20 in July, USD/INR plunged two percent before bouncing from the 50-Day Moving Average (DMA) at 78.66 (green line).
Fast forward a week, and the pair is still testing the support of the 50-DMA. The indicator, now at 78.91, is the first significant support level. If rupee strength causes USD/INR it to drop below 78.91, it may continue to fall until it reaches the 100-DMA at 77.80.
However, the price is currently trading above the key indicator. As long as this continues, the rupee risks returning to its July record low.
USD/INR Exchange Rate Chart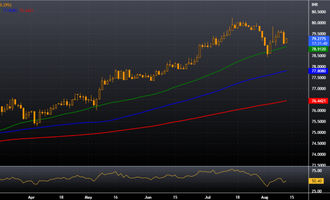 Elliot Laybourne
Elliott is a former investment banker with a 20 year career in the city of London. During this time he held senior roles at ABN Amro, Societe Generale, Marex Financial and Natixis bank, specialising in commodity derivatives and options market-making. During this time, Elliott's client list included Goldman Sachs, JP Morgan, Credit Suisse, Schroders Asset Management, and the Pennsylvania State Public School Employees Retirement System, amongst others. Today, he splits his time between Thailand and Dubai, from where he provides trading consultancy and business development services for family office and brokerage clientele.