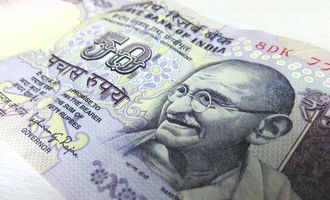 USD/INR Setting Up For a New All-Time High
USD/INR ended the week higher by 0.30 percent at 79.62 as the Indian rupee struggled to hold onto the earlier gains against the US dollar.
Despite the US dollar weakening against many Asian peers, the rupee failed to capitalize and looks set for more weakness ahead. The currency's frailty comes after crude oil jumped 9 percent from last week's 7-month low.
India is the world's third-largest importer of oil, with around 90 percent of it's requirements priced in US dollar. As such, the rupee has an inverse relationship with the price of oil.
The rupee was firmer initially against the dollar mid-week, following the US inflation data. The Consumer Price Index for July, which came in at 8.5 percent (MoM) below the expected 8.7 percent, sent the dollar tumbling on Wednesday. Although statements by US Federal Reserve officials suggest the central bank will stay hawkish despite inflation easing. Subsequently, the US dollar is back on the front-foot against the struggling Indian rupee.
Indian Trade Deficit
India's trade deficit widened to a record $30 billion in July as imports continue to outpace exports. Higher energy costs including crude oil and coal is behind the imbalance. Which is concerning considering inbound remittances are soaring.
India is the world's largest recipient of inbound remittances, mainly from migrant workers who send money to India to cover family expenses. Recent data shows more money than ever before, is flowing from the United States to India as senders taker advantage of the dollar' strength. However, so far, the inflows have been unable to narrow the gap with outflows.
US Dollar to Indian Rupee Outlook
The daily price chart shows USD/INR has been trending higher all year. At the time of writing, the dollar to rupee exchange rate has gained over 7 percent year-to-date.
Notably, the pair is above all three major Daily Moving Averages (DMA's). The closest is the 50-DMA at 78.99 (green line) which is the first significant price support.
As long as USD/INR is above the 50-DMA, a return to the record highs above 80.00 is probable. With that in mind, the immediate outlook for USD/INR is positive. However, a close below the 50-DMA would suggest a reversal.
USD/INR Price Chart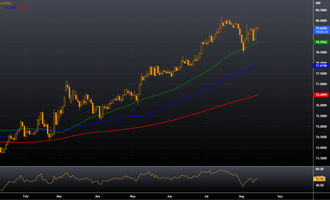 Elliot Laybourne
Elliott is a former investment banker with a 20 year career in the city of London. During this time he held senior roles at ABN Amro, Societe Generale, Marex Financial and Natixis bank, specialising in commodity derivatives and options market-making. During this time, Elliott's client list included Goldman Sachs, JP Morgan, Credit Suisse, Schroders Asset Management, and the Pennsylvania State Public School Employees Retirement System, amongst others. Today, he splits his time between Thailand and Dubai, from where he provides trading consultancy and business development services for family office and brokerage clientele.