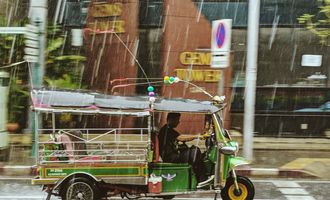 USD/THB: Weaker Thai Baht May Lie Ahead
USD/THB is climbing higher on Monday morning as the US dollar attempts to claw its way back into contention against the strengthening Thai baht.
The Thai baht has been on a tear recently. At last week's low point, the Asian currency was up over 5 percent against the buck in the last three weeks. However, a sharp bounce from the lows on Thursday, continued on Friday, and so far this morning. As such, the greenback has added over 1 percent.
Despite the baht's relative strength, it remains down close to 7 percent against the dollar this year. Driving the weakness, is low interest rates in Thailand, aimed at stimulating tourism and economic growth.
Although, the weaker baht is a boost for exports and for those who send money to Thailand, it has led to energy inflation jumping higher, which will likely drag on consumer spending.
Subsequently, the Bank of Thailand (BOT) was forced to raise rates to by 25 basis points to 0.75 percent at last week's meeting. But despite the first rate hike this year, the baht's response is disappointing. In fact, there are signs that USD/THB could be on track for a upwards extension.
US Dollar to Thai Baht Outlook
The daily chart shows USD/THB has broken down from a six-month uptrend. Typically a pronounced break of trend leads to a significant extension. However, this has failed to happen and the price appears to be turning higher.
The 100-Day Moving Average (DMA) at 34.92 (blue line) provides considerable price support below the market. As long as the pair remains above the 100-DMA it should attempt top recover the rising trend line at 35.50. Subsequently, if USD/THB successfully reclaims the trend, we should expect to see short-covering towards the 50-DMA at 35.75 (green line).
The relative Strength Index (RSI) is also turning higher, indicating bullish momentum is increasing. This along with the price action suggests more baht weakness ahead. For that reason, the outlook for USD/THB is positive in the near-term. However, a daily close below the 100-DMA would suggest that bearish momentum is back in the driving seat.
USD/THB Price Chart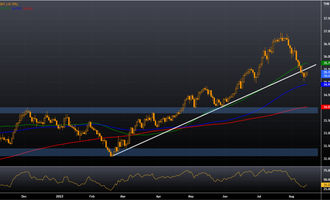 Elliot Laybourne
Elliott is a former investment banker with a 20 year career in the city of London. During this time he held senior roles at ABN Amro, Societe Generale, Marex Financial and Natixis bank, specialising in commodity derivatives and options market-making. During this time, Elliott's client list included Goldman Sachs, JP Morgan, Credit Suisse, Schroders Asset Management, and the Pennsylvania State Public School Employees Retirement System, amongst others. Today, he splits his time between Thailand and Dubai, from where he provides trading consultancy and business development services for family office and brokerage clientele.