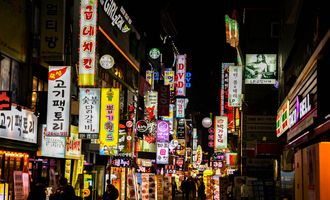 USD/KRW Changing hands at Multi-Year Highs
It's only a matter of time before the USD/KRW exchange rate breaches it's highest level in fourteen years as the dollar's rally hits second gear.
The dollar to Korean won exchange rate equaled a record high for 2022 on Thursday after a slew of economic data in the US sent the dollar hurtling higher.
The minutes of the latest Federal Reserve Open Market Committee (FOMC) meeting kicked off Wednesday's data releases. The Philadelphia Fed manufacturing numbers and jobless claims followed. With the Existing Home Sales ending proceedings late in the day.
On balance, the data itself was positive. However, the FOMC minutes showed fed Governors are still considering a 75 basis-point rate hike at the next meeting. St Louis Fed President James Bullard confirmed this, telling reporters he will likely back a 75 bp hike in September. As a result, the dollar popped against major pairs, heaping more woes on the struggling Korean won.
China Slowdown
The Asian currency has had a difficult year, falling more than 20% against the US dollar in 2022. China's economic slowdown is undoubtedly to blame for most of the won's weakness.
South Korea relies substantially on China, which accounts for 27% of the country's exports. Keeping this in mind, China's slowdown may mean further difficulty for the won.
In July, China's retail sales, credit growth, and industrial production all plummeted. Furthermore, despite low expectations all three indicators came in below forecast. This comes as the world's second-largest economy continues to battle the covid virus and a crumbling property market.
Notably, the won's depreciation has spurred remittances from Korean emigrants who send money to Korea. As a result of the higher dollar, incoming remittances are likely to hit a record $7 billion this year.
Dollar to Korean Won Outlook
The daily chart shows USD/KRW is knocking on the door of the highest price since 2004 of 1,329.17 set in July.
Below the market, the 50-Day Moving Average (DMA) at 1,302.55 (green line) underpins the rally. As long as the rate stays above the 50-DMA, we should expect a new fourteen-year high sometime soon. In that event, it's hard to predict just how high USD/KRW could go.
USD/KRW Exchange Rate Chart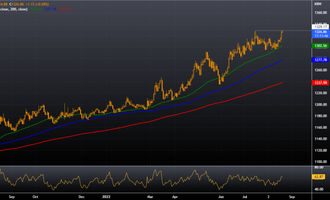 Elliot Laybourne
Elliott is a former investment banker with a 20 year career in the city of London. During this time he held senior roles at ABN Amro, Societe Generale, Marex Financial and Natixis bank, specialising in commodity derivatives and options market-making. During this time, Elliott's client list included Goldman Sachs, JP Morgan, Credit Suisse, Schroders Asset Management, and the Pennsylvania State Public School Employees Retirement System, amongst others. Today, he splits his time between Thailand and Dubai, from where he provides trading consultancy and business development services for family office and brokerage clientele.